Ask Us Anything Q&A Recap: Mark Homolka Answers Your Mobile Printing Questions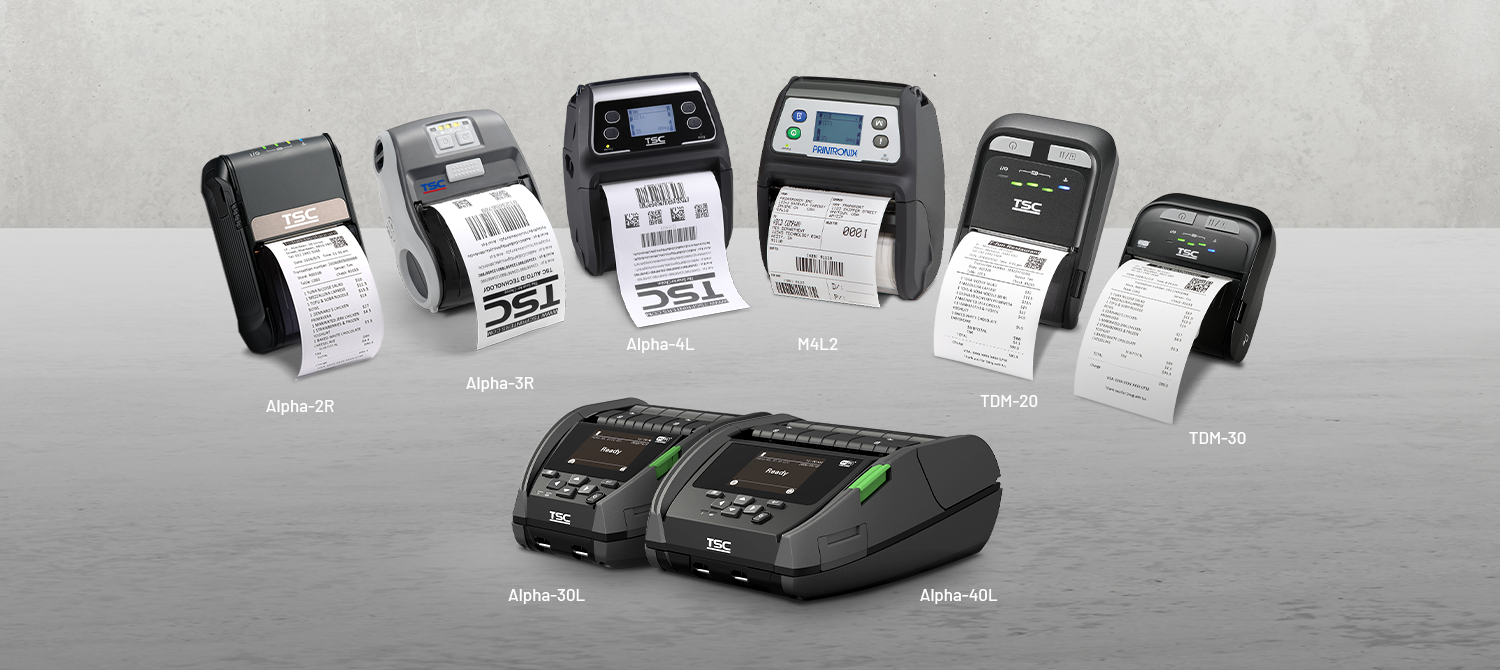 As many businesses are turning to mobile technology to help them meet the demands of a rapidly changing logistics environment, we hosted our first-ever live Q&A session to address some of our customers' most pressing questions about mobile printing.
Mark Homolka, Mobile Printer Account Executive at TSC Printronix Auto ID, answered a range of user-submitted questions and provided insight into the advancements being made in the mobile printing space. Through this live Q&A event, attendees gained a better understanding of mobile printing best practices, growing markets and applications for mobile printers, how our TSC Printronix Auto ID mobile printers stand out from the competition, and much more. This article provides answers to the questions Mark received.
 Are there specific verticals you've seen navigating towards mobile printing or is it broad depending on individual companies?
MH: There are a number of different environments that we traditionally work in. Supply chain and logistics environments are where we have seen an immediate need for mobile printing related to mission-critical applications. We are also big in direct store delivery (DSD) and route delivery environments for printing associated with deliveries and incoming shipments. In manufacturing, we have a strong presence in remote picking, manufacturing sequencing, as well as the order and staging of products going out of a company. Providing mobile printing solutions in the retail space is another core function of our business. Finally, we see a large need for mobile printing in the healthcare industry. Hospitals need to document and label things throughout the patient experience. We do a lot for the healthcare industry in terms of tracking and tracing for bedside labeling.
What are some typical applications for mobile printers?
MH: If you look at the traditional markets mentioned above, that is where some of our most popular applications are. There are also other traditional applications for mobile printers associated with mobile point-of-sale, specifically for receipt printing. E-citations and parking tickets for law enforcement as well as the public sector environment is another typical application for mobile printers.
We do see some emerging markets and changes happening in the mobile printer space as certain industries begin to grow and evolve. Retail is a perfect example of this, as we've seen a shift in increased curbside pickup and delivery applications for many retailers and restaurants due to the pandemic. Agriculture is another big growth area for mobile printing, for its capabilities in tracking and tracing. This vertical can utilize mobile printing for anything to do with seed processing and tracing. The cannabis industry is a specific area of agriculture growing its need for mobile printing as it relates to all of the regulations associated with the tracking and distribution of cannabis products.
Do you have any suggestions for someone trying to use this in a much more durable application? Typically, I've found direct thermal is short-term and doesn't do well in many environments besides indoors.
MH: That is definitely something that we see happen with label materials. The label material and image durability are paramount in mobile printing applications. Luckily, we have our experts from TSC Genuine Supplies powered by Diversified Labeling Solutions. They have the tools to help you develop a label perfect for your specific environment. In the case of label durability, an ideal solution could be a label that has been top-coated or made from a poly-material.
Do TSC mobile printers support major printer languages?
MH: Yes, we absolutely support most major printer languages right out of the box. Our most useful tool helping you in this situation is through our engineering group who will look at your specific application and determine what our printer would be capable of emulating for you. We generally can take just about any data stream and emulate almost any of the major printer languages that are on the market.
How does the mobile printer typically communicate with the host?
MH: There are two major ways most organizations are communicating to the host with their mobile printers. One being through Wi-Fi, and the other is through Bluetooth. Both options have their advantages based upon your environment and application. We can also leverage Near Field Communication (NFC) if that is of interest. It is really dependent upon the use case and upon your environment.
At what distance from the host can the operator still use the mobile printer?
MH: That is dependent upon the technology you have chosen. With Bluetooth, the user will have a range of about 30-meters. If you have chosen to use Wi-Fi, it could be a little bit more of a variable because it is contingent upon the strength of the Wi-Fi signal throughout your entire facility.
How can customers use their smartphones to print labels? Is there any specific app available that is compatible with smartphones and offers similar label designing features like Bartender?
MH: There is no Bartender mobile app that currently exists in the marketplace. However, with our TSC engineering resources, we can quickly show you how to design and download specific label templates directly from your desktop so you can easily transfer those templates directly to the mobile printer.
What are best practices and options when it comes to charging and storing mobile printers?
MH: TSC Printronix Auto ID has many different accessories that come with our mobile printers. They range in everything from battery chargers, docking stations, to carrying straps, and much more. It really is up to the user as to what accessories you need to use based on your specific environment. Beyond that, the preference of managing batteries over docking stations is something you should consider. Our docking stations can hold and charge up to four printers in a 4-bay docking station. For batteries, you can have additional ones charging so that in the event one battery dies, you have another ready to replace it.
We've designed our new Alpha-30L and 40L mobile printers with high-performance smart battery technology. On the Alpha-30L this allows the battery to fully charge in approximately 3.5 hours and have a 24-hour battery life, printing a label every 2.5 minutes. The battery on the Alpha-40L can charge in approximately 4.5 hours and have 45 hours of life, printing a label every 2.5 minutes using Bluetooth. It is important to test the devices in your environment to see how the batteries will work in your space.
How do the new Alpha-30L and Alpha-40L mobile printers compare to other printers in the market?
MH: Our technology is designed to work in mission-critical environments where you need a device that is capable of printing at a very high production level. The technology that we put into the new Alpha-30L and Alpha-40L printers include features like a smart battery which is designed to last an entire shift. It also allows you to report on the health and activity of the battery. In terms of accessories, we have everything from shoulder straps, belt clips, to mounting options for forklifts, as well as a range of options for docking and battery replacement to make sure the printers are always ready for use. We also service and support our printers using advanced remote printer management technology from platforms like SOTI Connect. Our relationship with SOTI gives users the ability to manage their entire fleet of printers remotely, monitor battery health, and download any necessary updates to the printer or firmware. Finally, our sophisticated TSC Sense Care allows users to monitor the printhead on the mobile printers through active dot check. This ensures that the labels being printed will read properly. These printers are also extremely rugged, IP54 compliant, and can withstand up to a 1.8-meter (6-feet) drop without the protective case and 2.5-meters (8.2-feet) with the protective case.
What software applications does the new series work with?
MH: The software applications themselves are driven by the operating systems they are leveraging. Our printers can support iOS, Android, Windows, and Linux operating systems. In addition, I always like to refer back to the engineering resources we have available to work with your organization to determine how our printers will work best with your environment.
Will the mobile printers work in cold environments like outdoors or cold storage?
MH: Yes, another one of the rugged characteristics of our new mobile printers is the ability to work in cold and demanding environments. Our new Alpha-30L and 40L printers can operate in temperatures down to -20° C (-4° F), as well as on the high-temperature side of up to 50° C (120° F). One of the things we have been able to do in cold environments is work on specific firmware for customers to make sure the printers are able to operate in those environments where the temperature gets very low. We are always going to work with our customers to create the solution that will work best for their unique environment and application.
Can you mount the new mobile printers to a forklift?
MH: We absolutely can mount our mobile printers in a forklift application. Our recommended way of doing this is to hardwire the printer by using a battery eliminator and using the power that is already present on the forklift itself. Forklifts are very unique situations. How you mount your printer will depend on the type of forklift and how the user is ultimately going to use the printer. Based on these factors, we will be able to come up with the best possible solution for your application.
How does the external power supply work when it is connected to a vehicle? What options are available?
MH: I mentioned in the forklift scenario how we can leverage a battery eliminator and physically mount the printer to the forklift. That is one type of vehicle application we have available. We also have 24 and 60-volt vehicle power adapters that can be utilized for various vehicle applications. There is a certain degree of flexibility we have for vehicle applications in the public sector, as well as direct store delivery, warehouse, and logistics environments. Once we have a better understanding of the application, we can make the best recommendation for you.
What are best practices for managing your mobile printer environment?
MH: When I think about best practices for managing a printer fleet, one of the things TSC Printronix Auto ID has to offer our customers is through our strategic partnership with SOTI and the SOTI Connect platform. We have one of the first mobile printers on the market that is able to be fully managed by SOTI Connect. This is important for our customers, as it gives them advanced remote management capabilities in a single platform for seeing into their entire IoT network in regard to printer health, configuring, and updating printers. It is a very powerful tool. We also have a free remote printer management software for our TSC printers called TSC Console. This tool is ideal for small or medium-sized businesses with fewer devices to manage or those looking for a solution to quickly and remotely monitor printers, configure settings, deploy programs, and troubleshoot problems.
Your Mobile Printing Experts
We have the tools needed to create a complete solution for our customers. From our Genuine Supplies experts who can find the right materials for your application to our talented engineering and service and support teams who work with you to make sure the printer is tailored to your environment; we are committed to making it easy to do business with us.
If you have any remaining questions regarding mobile printing or any other services mentioned in the Q&A session like our Try and Buy Program, contact Mark Homolka at mhomolka@tscus.com.