PrintCart Wireless Mobile Workstation
PrintCart is a printer power solution proven to last through demanding work shifts. It can be deployed anywhere within the physical limits of a business at any time to provide terminal and labeling capability over multiple shifts.
The rugged PrintCart can power a printer and terminal for up to 20 hours (12 hours under heavy use) and fully recharge in about 4 hours. Need even more power? Continuous 24 hour operation is possible by using the optional battery subpallets and/or an external charger.
An innovative self-defending controller automatically balances business needs with optimal power system performance. There are no controls to operate. When connected to line power, the cart automatically switches equipment to AC power while simultaneously charging the battery. The longevity of the battery is extended by protecting it from deep discharging and short charge cycles.
Industries and Applications



Transportation & Logistics



The PrintCart provides a wireless, point-of-use thermal printing and wireless terminal platform for use in demanding logistics and distribution warehouse environments. Printing at the point of application improves worker efficiency and accuracy.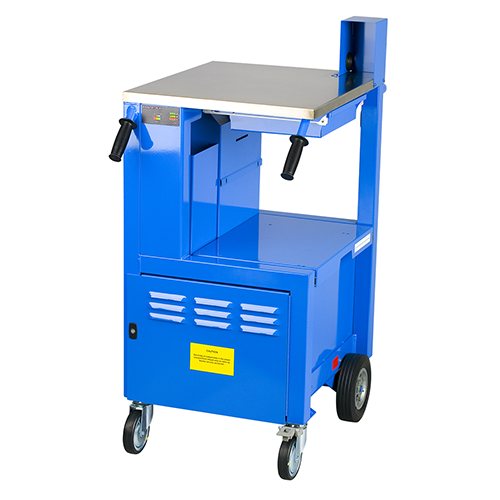 Move your printer to the point of application and improve worker efficiency and accuracy.
The Printronix PrintCart is the only mobile printer-power solution proven to last through demanding work shifts. Its Advanced Power Management System is designed to lower your operating costs and increase productivity.
Advanced Power Management System
Power a printer and terminal for up to 20 hours (12 hours under heavy use)
Fully recharge in about 4 hours
Integrated charger-inverter-transfer switch automatically manages energy sources
Extends battery longevity by limiting deep battery discharge and short cycle charge time
Reliable & Rugged Construction
Rugged, powder coated, welded steel frame
Pull-out printer shelf enhances serviceability
Large stainless steel work surface
Tight turning and long distance mobility with short wheel base and large, ball bearing wheels
Versatile Operation
Configurable for external charger and/or exchangeable battery pack for continuous operations
Optional accessory pack includes utility drawer, media and scanner storage, refuse bin and notebook holder
Simple, easy to read display panel with battery status "gas gauge", audible recharge alarm and advance warning of battery exhaustion
{[{ key }]}
{[{ value.title }]}
{[{ value._date }]}
{[{ value._size }]}