Need to Automate RFID Tagging?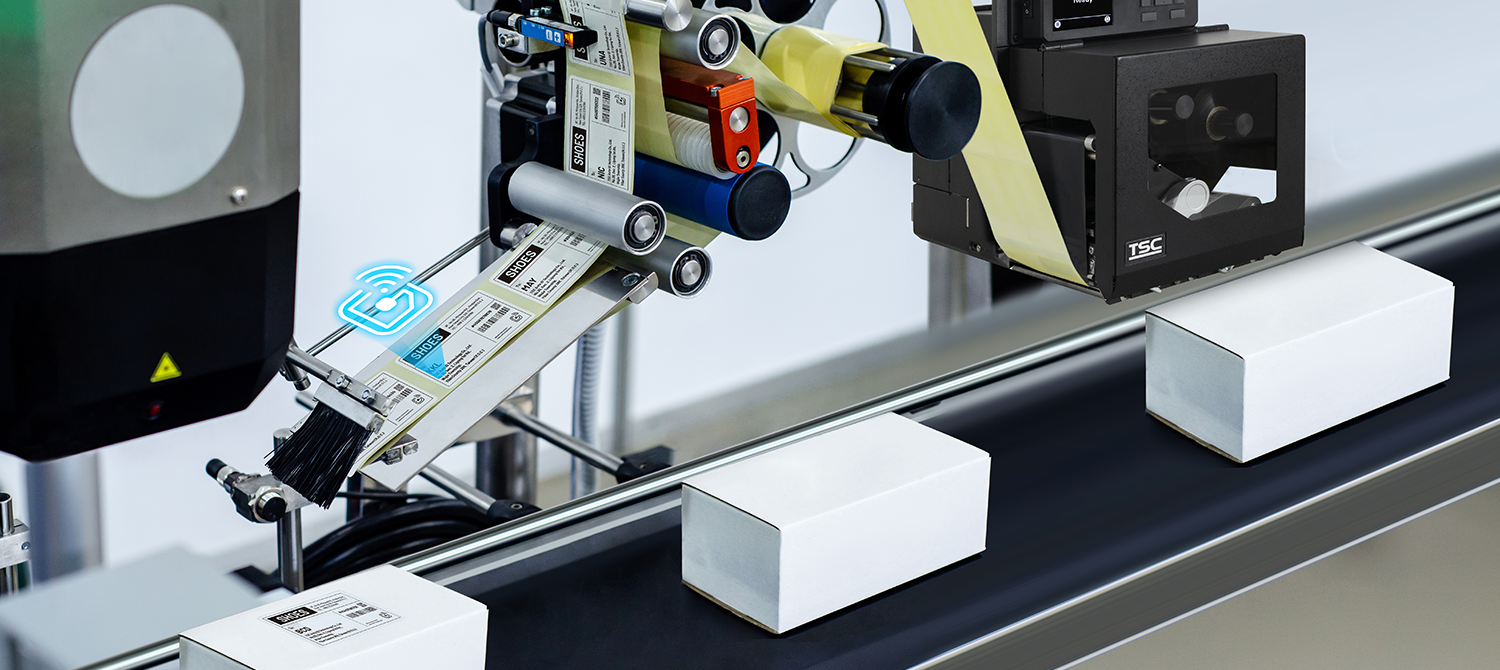 Leverage a Print Engine with an RIFD Encoder for Better Efficiency
Most businesses need effective inventory control and management. Companies across industries are seeking ways to gain real-time visibility and increase control over their inventory for better management. RFID technology can effectively help enterprises track and manage assets ranging from production equipment to shipping cases, commodities, and more.
RFID item-level tagging has proven to be an effective solution, particularly in the retail industry. It can provide enterprises with accurate and real-time tracking throughout the supply chain. It brings many benefits, including increased efficiency, improved inventory management, enhanced supply chain visibility, better customer service, and automated operations. Major retailers like Walmart and Nordstrom have mandated their suppliers meet RFID tagging requirements.1
Unlike barcodes, RFID tags can be read within a range without the need for direct line-of-sight scanning. RFID tags can be read within a range, enabling a higher level of operational automation. Additionally, RFID tags are encoded based on universally unique standards-based numbering systems. Tagged items can be correctly identified while operational efficiency is enhanced.
Can RFID Item-Level Tagging be Fully Automated?
RFID item-level tagging can be done manually or by rewinding pre-encoded RFID labels and sending them to a labeling machine. In high-volume applications, both practices require intensive labor and may interrupt workflows. Since RFID tags can be encoded, printed, and applied throughout the print and apply process, businesses can now achieve a higher level of automation, reduce labor, and improve overall operations. A print engine with RFID encoding is the solution to automate item-level RFID tagging.
Why the PEX-2000 for RFID Labeling Automation?
The PEX-2000 Print Engine is a comprehensive solution that combines high-performance RFID encoding capability with exceptional reliability, all in a compact design. Its integrated design greatly simplifies systems integration, which is typically a headache for systems integrators or machine builders. When it comes to RFID applications, the PEX-2000 Print Engine gives you peace of mind for several reasons:
Up-to-date standards support: We work closely with GS1, ISO/IEC, AIM, and the RAIN Alliance to ensure that our RFID print engines correctly and adequately support the various encoding standards even as standards are evolving.
Support for various tag and label construction: We test RFID chips and inlays to ensure they operate well in our RFID print engines. We also support a wide range of products, giving you confidence that our print engine will work for your application. Notably, the PEX-2000 supports media thickness up to 1.2mm, offering enhanced flexibility for diverse labeling demands.
RFID auto calibration for effortless label switching: The PEX-2000 Print Engine incorporates RFID auto calibration technology with its internal antenna. This feature optimizes the print engine to adjust itself automatically, eliminating the need for manual adjustments when switching between different tag and label constructions. Regardless of label size, the PEX-2000 enables efficient adaptation for different labeling needs.
Streamlined validation with automatic overstrike: The long-distance back-feed capability empowers the PEX-2000 to overstrike any incorrectly encoded RFID labels. Items tagged with overstrike labels are easily recognized during the label validation process, minimizing operational disruptions.
Achieve High-Performance RFID Labeling Automation with the PEX-2000
With its advanced features, the PEX-2000 seamlessly integrates automation and RFID technology, empowering businesses to achieve better efficiency. Built upon our rich legacy, the PEX-2000 can easily integrate into any print and apply system by supporting DB15 and DB25 connectors, GPIO emulations, and printer language emulations for major printer brands.
To explore the PEX-2000 Print Engine's features, please visit our website or contact your local sales representative for more information about our Print and Apply solutions.
1 RFID Label, "Why do retail giants like Nordstrom & Walmart use RFID?," September 26, 2022