Coffee Break Recap: TSC Printronix Auto ID and SOTI Discuss Our Best Mobile Printers Yet and Trends in Mobility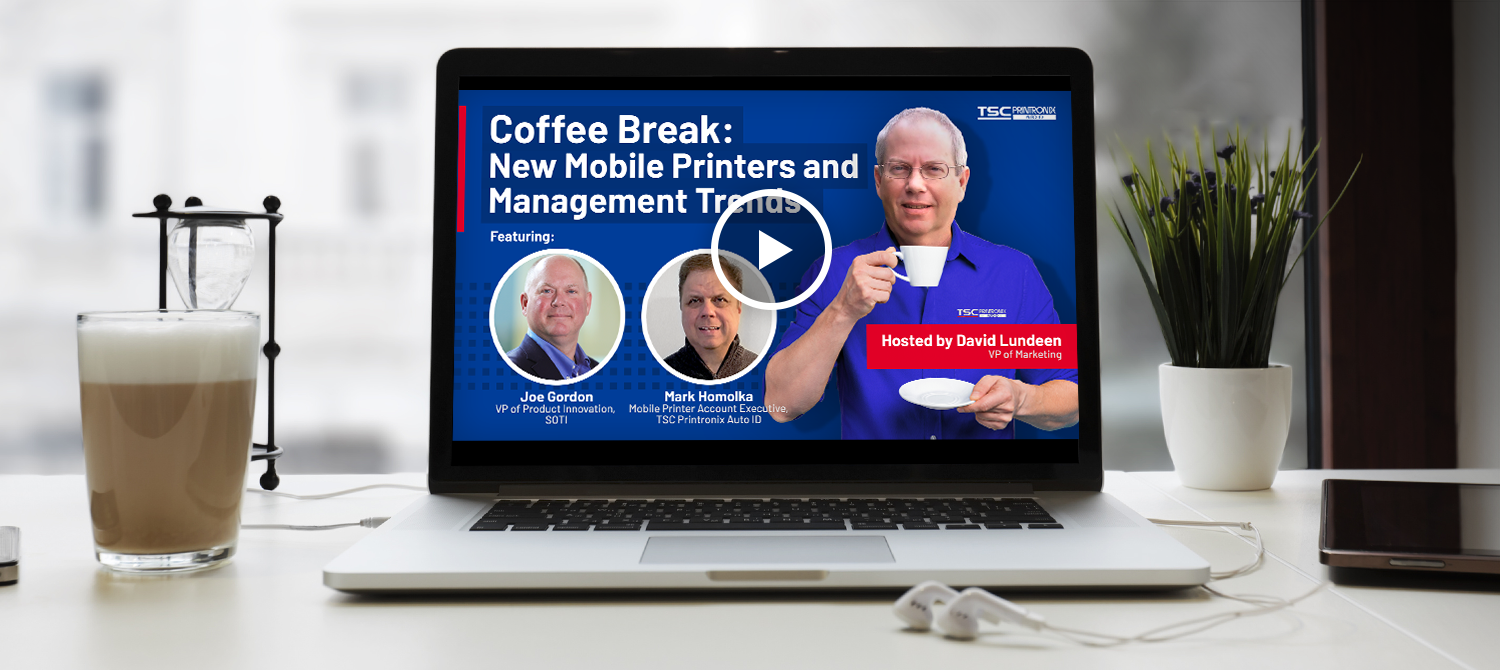 For the past year, TSC Printronix Auto ID has been working in partnership with SOTI, a world leader in mobile and IoT device management, to provide mobile and IoT solutions to customers. In January, TSC announced its newest mobile printers, the Alpha-30L and Alpha-40L, compatible with SOTI Connect, an innovative IoT management solution.
In the latest Coffee Break episode, David Lundeen, VP of Marketing at TSC Printronix Auto ID, was joined by Joe Gordon, VP of Product Innovation at SOTI, and Mark Homolka, Mobile Printer Account Executive at TSC Printronix Auto ID, to discuss the company's new mobile printers and growing business trends in mobility.
TSC Printronix Auto ID, and SOTI product and engineering teams, have worked together to deploy data collection of valuable printer status information to ensure reliable performance and uptime. The new Alpha mobile printer series adds new levels of data insights and was developed with SOTI Connect in mind.
Advanced Connectivity Features to Link TSC's Newest Mobile Printers with SOTI Connect
The new Alpha-30L and Alpha-40L mobile printers are purpose-built devices designed particularly for mission-critical tasks. Since establishing a partnership with SOTI earlier last year, TSC Printronix Auto ID has been able to design new printers to bring all of the benefits of SOTI Connect to its customers. The SOTI Connect remote printer management platform enables customers to collect remote diagnostics, gather data from the devices to support analytics, and access innovative automation features that prompt printers in the field to send alerts when there is an issue. Due to the advanced features of SOTI Connect, users can manage their printers remotely and, in some cases, resolve issues without ever needing human interaction. The new mobile printers can seamlessly connect and communicate with SOTI Connect through a Bluetooth connection or Wi-Fi network. Customers using TSC's newest mobile printers for mission-critical applications have been using SOTI Connect to avoid downtime by detecting bad dots on the printhead of their devices, and checking on the health and status of their printers' smart batteries.
What is a Smart Battery and What Kind of Data Does it Provide?
Thanks to intelligent TSC Smart Battery technology, users are able to gather a lot of information about battery health and understand the history of the charge cycles on their mobile printers. When in use, the smart battery is reporting the health and activity of that battery over the entire shift. It's important in mission-critical printing to understand the device's activity levels when it is being used non-stop over an entire shift or 24-hour period.
Mobile printers provide a ton of data. SOTI Connect can take in different kinds of data and over time, the data trends on battery usage and trends will be collected in one easy-to-access dashboard for all the printers spread across your network. Regarding batteries on your mobile printers, you can take the data trends on your printers' battery life and use that information to drive analysis and prevent downtime for your devices.
Most customers cannot afford to have these mission-critical devices go down. If a printer does go down, the customer needs to know quickly and be able to resolve the issue as fast as possible. Problems that can be detected by SOTI Connect can also have impacts on other aspects of the printer's performance. By taking corrective actions and sending alerts in real-time through SOTI Connect, the end-user can self-service and resolve any issues on the devices promptly to keep their operation moving.
What Mobile Options Are Available on the New Printers?
TSC mobile printers come available with a full line of accessories to enhance the end-user experience. Whether it be battery chargers, docking stations, cases, or shoulder straps, there is an extensive selection of add-ons that allow for the device to be more functional for the end-user. Customers can also benefit from a pretty flexible platform of options for connecting or mounting the mobile printers to a forklift or vehicle. This can be especially useful in distribution centers where the printers have the ability to leverage the facility's power off a forklift truck or vehicle to eliminate the need for batteries and create a continuously operating device.
What Customers Can Benefit from Using These Solutions?
There are benefits for almost every kind of customer. TSC Printronix Auto ID printers with SOTI Connect remote printer management capabilities can help operations across a range of industries including distribution, pickup and delivery, shipping and receiving, inventory management, and control room IT management. Logistics environments are one of the areas that have seen the greatest need for mobile printing and remote management solutions. This need is typically seen in warehouse locations or for delivery processes.
Retail is another area where mobility is seeing a lot of growth. For some companies, a location may be fixed, but the people and staff are mobile. Mobile printers are an ideal solution for printing instant receipts and labels while employees are moving around the facility. In the past, a lot of the printers in these verticals were not managed. In the event that a printer went down, a person had to be sent out to service it. The main benefit that SOTI Connect brings to customers in these situations is eliminating the need to send personnel to the physical locations of these printers. A lot of the time these printers are scattered across the network, and we now have the ability to service them directly in real-time and remotely.
A Centralized Installation to Manage Your Printers Around the World
The two main installations of SOTI Connect are either on-premises with a corporate headquarters or IT center or on the cloud with the ability to manage printers around the world. Whether you need one centralized management point or multiple installations, users can easily and seamlessly be connected to the SOTI Connect platform from almost anywhere in the world with a wireless network.
The Use of Mobile Printers is Evolving as Industries Begin to Shift
Many companies are pivoting and trying to figure out how they get products to customers faster. This is creating many new use-cases for mobile printing across various industries.
The retail industry is a perfect example of this. Many retailers are using mobile printers to streamline their processes and tracking during curbside pickup and product delivery. The growth the retail industry has seen in shipping products over the past year has created more demand for better processes. This is both on the distribution and return of products. Mobile printers are able to help companies stay organized when product comes back in by providing the necessary documentation for smooth returns processing.
There has also been a growing demand for mobile printing in agriculture. This ranges from applications necessary for seed and crop tracking to providing industry-standard labels that meet the regulations for distribution in the cannabis industry.
One of the core verticals TSC Printronix Auto ID and SOTI cater to in mobile printing that continues to grow is healthcare. They provide this industry and hospitals with the solutions needed to track and trace, provide patient care and conduct proper bedside labeling. TSC Printronix Auto ID systems have the power to eliminate human error and save the healthcare industry millions of dollars in lawsuits with printers for patient identification and tracking.
"There are definitely new emerging markets for mobile printing," states Mark Homolka, Mobile Printer Account Executive at TSC Printronix Auto ID. "It's something we are very excited to unearth with customers as they uncover new business needs."
Empowering Healthcare and Hospitals with SOTI Connect
As the world displays a global effort to distribute COVID-19 vaccines, SOTI Connect can help in tracking where the vaccines are going and making sure that when the vaccine moves from one point to another it never goes above the required temperature. Cold chain logistics is a space remote management and mobility solutions are growing in and are able to support by monitoring devices used for printing prescriptions, providing tracking, printing receipts, and documenting the temperature of the substances being moved.
In hospitals, the bed to printer ratio is almost 1:1. Thermal printers are able to optimize patient and staff identification and security, medication labeling, and substance tracking.
The Best Mobile Printers TSC Has Ever Brought to Market
There has been a huge adoption of mobility solutions for tracking and tracing in recent years. To support this growing demand for mobile printers, TSC Printronix Auto ID has put some incredible technology into the new Alpha-30L and 40L printers to support customers. These printers have industry-leading rugged characteristics to ensure that these mission-critical devices can handle anything they will face in the field. They can withstand up to a 1.8-meter (6 foot) drop, are IP54 compliant to handle the toughest production environments, and can power through the demands of your operation for an entire shift thanks to its smart battery.
These are also the first mobile printers TSC has launched since establishing our partnership with SOTI. Both the TSC Printronix Auto ID and SOTI teams put a lot of thought into designing the printers to have full access to the mobile and IoT features that SOTI Connect is capable of.
"We've really enjoyed working with the TSC Printronix Auto ID team. We are looking to add more ways to enable remote management and diagnostics," states Joe Gordon, VP of Product Innovation at SOTI.  "We've seen how critical it is to get customers information in a timely and useful manner. I look forward to continuing the relationship and growing our mutual solution."
To learn more about our mobile printers or SOTI Connect remote printer management, visit info.tscprinters.com/soti or contact your local sales representative.