Top 5 Reasons to Choose Our MB Series Performance Industrial Printers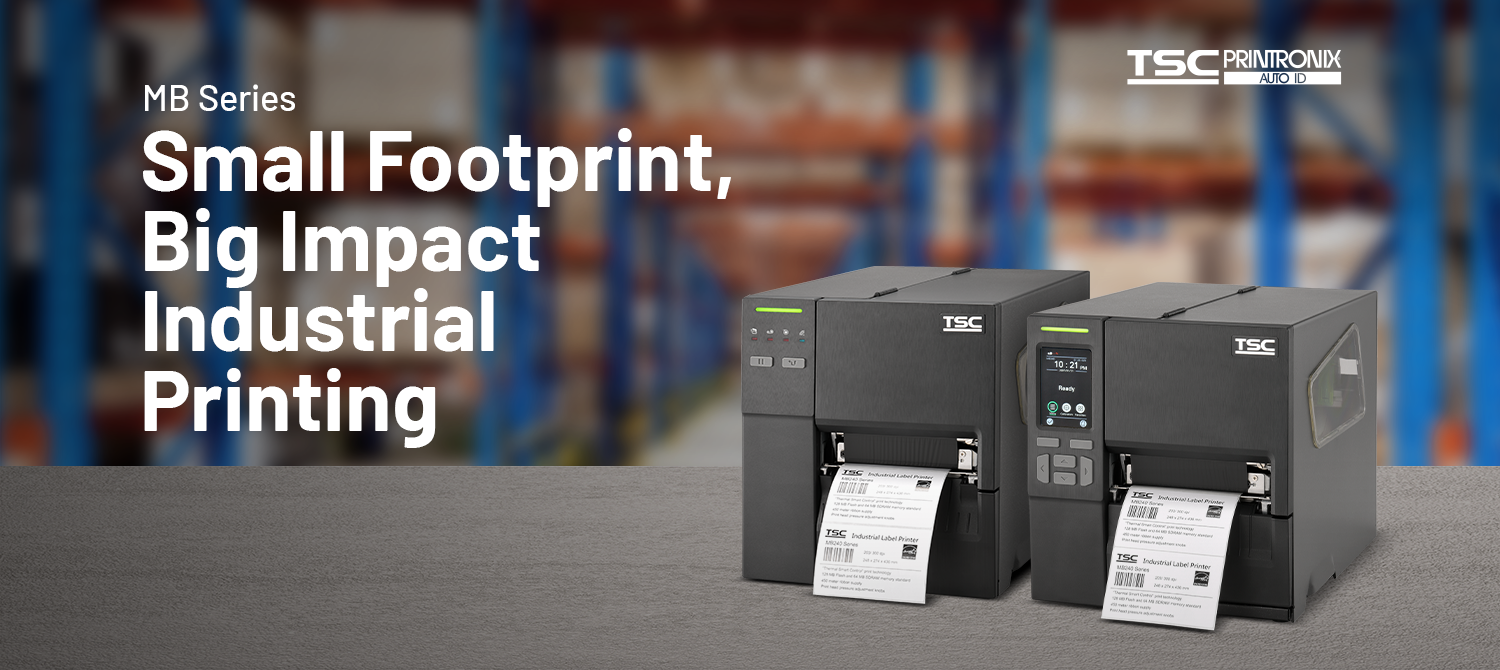 The MB Series Packs Powerful Printing into a Small and Quiet Package
Our industrial thermal barcode label printers are built for high-performance and high-volume printing. With some of our fastest print speeds and premium printhead technology, our industrial thermal printers deliver high-quality, crisp, and clear labels for nearly any industrial printing application. One of the most popular printer families in our TSC Performance industrial printer line-up is the MB Series. Available in four models, the MB Series includes the MB240, MB340, MB240T, and MB340T which all offer users a flexible footprint, an easy to understand operator interface, and a full set of options to meet nearly every light industrial printing application.
 Why You Will Love the MB Series
The MB Series label printers have many qualities that bring together a solution tailored for compact industrial printing with many user benefits. Below we review the top five highlights of these compact and powerful, top-performance printers.
1. Small Footprint and Rugged Design to Fit into Almost Any Environment
The MB Series Performance industrial thermal label printers provide unprecedented value for 4-inch-wide light industrial label printing. Its compact design and fast label throughput are meant to fit into most environments for industrial printing applications whether it be at home, in the office, or on the warehouse floor. Additionally, the MB Series features our quietest entry-level industrial printer ever built. The reduced noise operation allows users to print clear and correct labels in any location without disrupting other business operations.
2. Intuitive Color Touch Display for Customizable Printing
The high-performance MB240T model features an easy to use high-contrast, 3.5-inch color touch LCD display panel with 6 buttons. Common tasks such as label calibration are one-touch away with this intelligent full-color display. Your printer menus can be customized to bring frequently used tasks to the main screen for faster, less complicated operation.
3. A Flexible and Advanced TPH Mechanism
The Thermal Print Head (TPH) Mechanism is a separate print module option with the MB series providing standalone solutions for the applications of these printers. The TPH Mechanism featured in the MB Series offers flexible pressure and heat line adjustment and a wide-open angle for easy media handling. This mechanism is cutting-edge in design with a reinforced TPH module hook to provide top-quality printing results.
4. Easy Setup and Configuration
It can be a challenge to configure printers and wireless devices from your computer one by one, especially for large scale projects. The MB Series eliminates this obstacle and can save you valuable configuration time and money with its user-friendly one-step out of the box setup. The included DiagTool configuration software allows for devices to be easily found and connected to existing networks with a simple scan, ensuring convenient network updates and printer replacement.
5. Versatile Connectivity Options to Meet Your Communications Needs
The MB Series can connect to any host network with a variety of interfaces including Ethernet, USB, USB-Host, Serial RS232, or Bluetooth. There is also an optional General-Purpose Input/Output (GPIO) interface for connection to a variety of industrial and label application equipment. The Wi-Fi optional accessory slot makes any MB series printer wireless-ready and the addition of 802.11a/b/g/n make connectivity simple.
To learn more about the TSC MB Series industrial printers and the full-line of accompanying accessories, contact your local sales representative or click here.