4 Easy Ways to Expand Your Printing Capabilities with TSC PrintSuite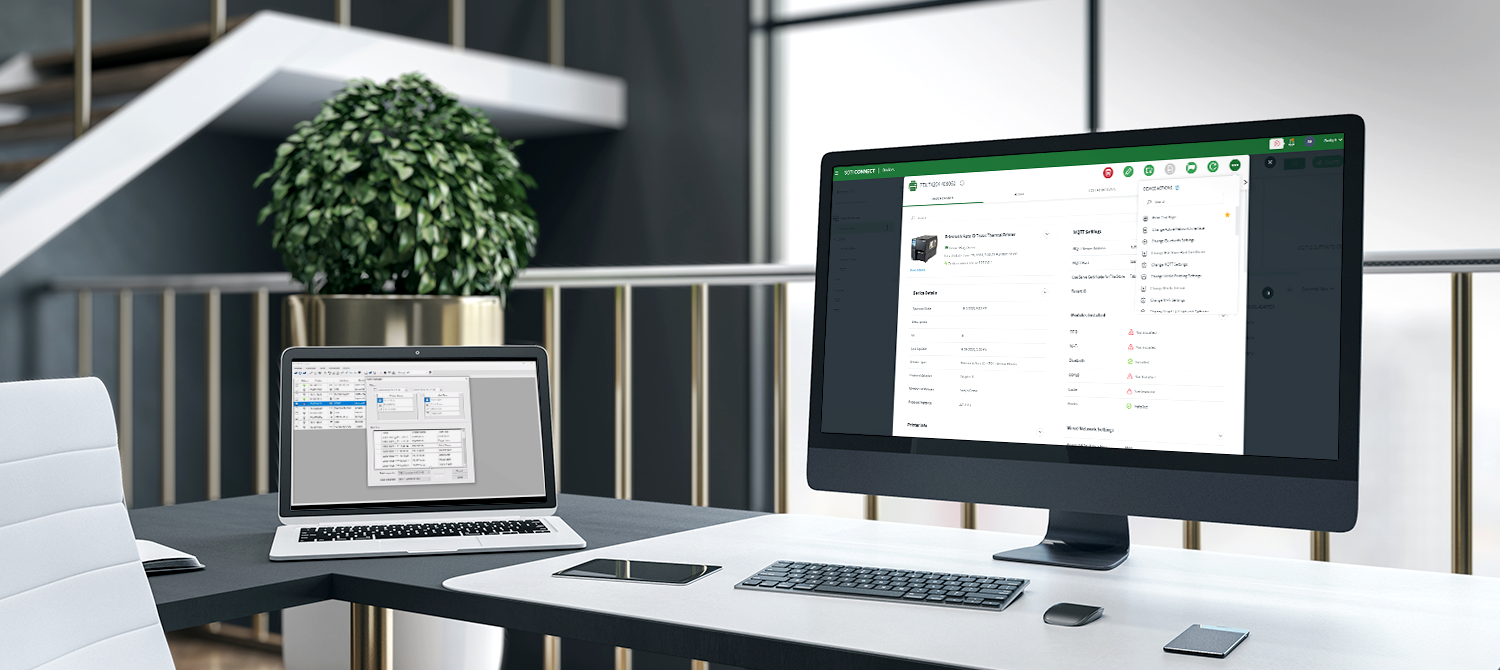 We have been working to provide our customers with value-added tools to enhance the operation and usability of our high-performance thermal label printers. We are excited to share TSC PrintSuite with our customers, which is a comprehensive tool kit of integrated technology and various hardware and software add-ons to expand the capabilities of your TSC printers.
TSC PrintSuite gives users the power to upgrade printers with compatible accessories, manage printers remotely with powerful printer management software, reliably connect to a variety of communication platforms, and expand printing capabilities with integrated software packs like label design software and much more.
TSC PrintSuite Holds the Key to Taking Your Printers to the Next Level
TSC PrintSuite helps create tailored solutions for nearly any printing application your business needs. Below we have broken up the benefits of this tool kit into the top four ways adding our technology and exclusive add-ons can help you grow your business.
1.Take Smart and Preventive Actions with Sophisticated TSC Sense Care

Our self-diagnostic TSC Sense Care has both TPH Mechanism and Cutter applications available to provide better visibility into a printer's status. Users receive an early replacement notification and get near real-time updates on the health and usage of their printers to prevent unexpected downtime.

If your business requires a range of labeling materials, top and bottom sensors can also be added to provide greater flexibility in support of various types of media including black mark and gap media.

Also included with TSC Sense Care, a dynamic smart battery system was designed to ensure productivity over a full shift and monitor battery health and remaining capacity. The system can report the state of battery capacity, charge, and history of charge cycles to allow users to replace or recharge batteries quickly and keep their operations running smoothly and ensure little to no downtime.

2. Real-Time Dynamic Remote Printer Management on TSC Console and SOTI Connect

There are two different remote printer management platforms available to our customers within TSC PrintSuite: TSC Console and SOTI Connect. These two remote printer management tools are built to give customers more control and visibility over their business and allows users the ability to manage entire printer fleets from a single touchpoint.

TSC Console is software for quickly and remotely monitoring printers, configuring settings, deploying programs, and troubleshooting problems. The software's ability to actively monitor and configure entire networks at once makes it an ideal solution for small and medium-sized businesses (SMBs) who manage dozens to hundreds of label printers. As the manufacturer, we can make this solution highly customizable to meet your needs.

SOTI Connect is a single and unified solution that provides printer management to manage multiple tasks, reduce maintenance costs, and avoid downtime of business-critical devices. Its highly flexible, data-driven architecture means new printers are quickly supported and managed, reducing deployment time for IoT initiatives.

3. Create a Seamless and Secure Network with Multi-Connectivity Options

An Apple-certified MFi Bluetooth® 5.0 connection and 802.11 a/b/g/n/ac Wi-Fi fast roaming features are two of the connectivity options within TSC PrintSuite to enhance your printers. These advanced features of TSC PrintSuite will not only provide reliable and seamless communication with users' devices but also securely print labels wherever they are needed. If your business utilizes our mobile printers, these wireless and roaming communication options enable your devices to perform very well, seamlessly moving from one access point to another.

We can also enhance your printers with the intelligent NFC tap-to-pair feature for easy connectivity, so users can securely print labels wherever they need them. The user can simply touch the printer to another NFC-equipped device, and the two will automatically pair.

A General Purpose Input/Output (GPIO) port is also available to our customers for programming various printer interface applications.

4. A Convenient and Efficient Integrated Software Pack for Everyday Applications

Whether you are a small business looking for easy-to-use label customization or a company with an advanced IT department looking to meet specific business needs, we have four powerful software options to help you customize and enhance the operation of our printers.

TSC Standalone Creator is software that customers can use to create sophisticated menus and labels for standalone touch panel applications and deploy to one or an entire fleet of printers with little to no prior programming experience. The exclusive software makes touch panel menu customization and label design easy by using an icon-based drag-and-drop interface.

BarTender UltraLite is a straightforward and easy-to-use label generator that is ideally suited for small businesses.

Mobile Utility, a newly developed mobile app allows users to have access to printer configurations, troubleshooting, web print, and enabling of browser-based applications from their Android or iOS device.

Our intelligent software development kit (SDK) available in TSC PrintSuite gives developers the flexibility to create custom applications on their printers for specific business needs.
Our Commitment to Deliver the Most Innovative Printing Technology
We are continuously working to deliver the most up-to-date thermal printing technology to our customers. The upgrading capabilities in TSC PrintSuite give our customers the ability to unlock new business-enhancing features including near real-time printer health updates, compatibility to powerful enterprise mobility management platforms like SOTI Connect, modern wireless connectivity, and value-added customization software tools. These enhancements are all part of our commitment to our customers.
To learn more about TSC PrintSuite and how to upgrade your printers with any of these advanced features, contact your local sales representative or click here.