For Greater Productivity and Safety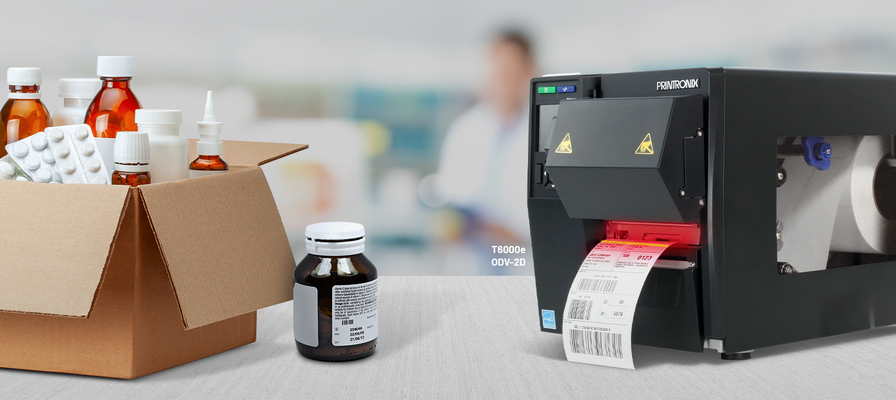 OPAL Associates Holding AG has served as a reliable provider and system integrator for Auto-ID and SAP® in Switzerland since 1996. A member of the Galenica Group, Galexis Ltd. is leading Swiss distributor of pharmaceutical and medical technology products. The company is set to celebrate its 100th anniversary in four years. The two companies share both a long-standing working relationship and their trust in the Printronix Auto ID brand. Against this background, the company intentionally chose the high-performance T5000 industrial printer along with its successor, the T8000, for its warehouse and dispatch labelling tasks.
Initially, Galexis utilised IBM 4400 printers for internal logistics. As spare parts were no longer available, Mario Stritzelberger, the distributor's technical informatics manager, began looking for a suitable replacement: He ultimately decided on the T5000 from Printronix because the printer was available directly from IBM as a private brand and also as the T5000 from the Printronix general importer for Switzerland. Michael Kölbl also worked there at the time. Together with Stritzelberger, he played a key role in the decision to go with the Printronix solution.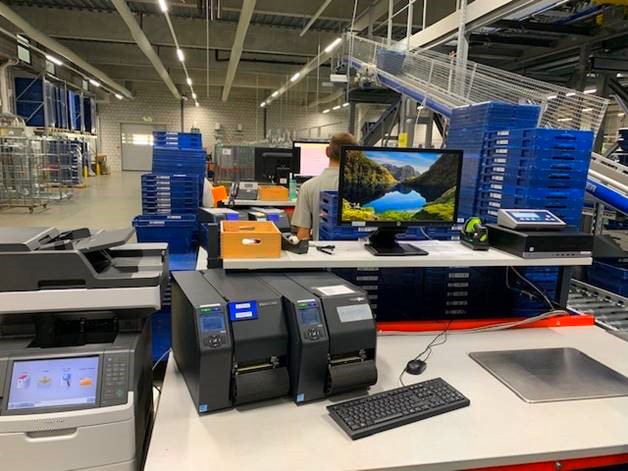 Efficient, reliable, economical: a new dimension in printing
Since then, the smart T8000 has largely replaced its proven predecessor at Galexis. "We are successively replacing the old printers with new ones in order to remain state-of-the-art," emphasises Mario Stritzelberger. The company already utilises a total of 60 printers at 12 locations. However, "roughly 20 T5000s continue to do excellent work for us."
The T8000 is Printronix's most versatile 24/7/365 printer in the 4, 6 and 8 inch class. The robust high-end thermal printer features optional ODV-2D in-line barcode verification technology together with an advanced 3.5" colour display including user-friendly navigation buttons as well as intuitive operator guidance. Other highlights include a 40% faster print speed, six times faster processing speed and eight times greater storage capacity in comparison to similar models on the market. Furthermore, the top seller in the product range also offers the most comprehensive library of print emulations currently available in the industry. This library also includes postscript and PDF printing. Last but not least, the T8000 provides comprehensive connectivity as well as easy installation and commissioning as the quick change memory card stores the printer configuration and network settings.
The system's other advantages also include the outstanding reliability of the T8000 even when printing up to 2,000 labels every day. "Essentially, we thoroughly clean the devices every six months and also handle the maintenance ourselves. We have never had a malfunction with even a single model. We did not need any spare parts either. This is extremely pleasing from both a production and a financial point of view," says Stritzelberger happily. 
Thanks to its excellent "Professional Service", OPAL Associates Holding AG offers maximum comfort and security to customers who desire permanently high efficiency and productivity from their systems but who do not have the same level of affinity for IT as Stritzelberger & Co. The company's decentralised service structure ensures that the specialists are always in close proximity to the customer, enabling them to make printing systems, software or WLAN operational again, to carry out any necessary maintenance and repairs and to replace defective devices quickly and easily. Michael Kölbl emphasises: "Preventive measures are an integral part of our modular service offers and enable us to immensely reduce the downtimes of the systems we support. As with the Printronix devices, these tend towards zero in the first place."
Intelligent printer management with SOTI Connect

In future, all of the models utilised throughout Galexis will be managed via SOTI Connect to achieve even greater efficiency.  Whether common printer problems, security settings, remote monitoring or print quality, the powerful tool provides administrators with access to more than 60 data points, keeping them consistently informed about the status, print cycles, memory utilisation and numerous other parameters of the hardware in use.
"Printronix was the first printer brand to be integrated into SOTI and which can be managed via the software," explains Thomas Rosenhammer, Area Sales Manager at TSC Auto ID Technology EMEA GmbH, based in Zorneding near Munich. The manufacturer of high-performance barcode label printers is active worldwide and ranks among the top 5 manufacturers. The company acquired the thermal/AIDC printer division of Printronix Inc. in November 2015. Since then, it has distributed its top products via qualified partners such as OPAL under the two brands: TSC and Printronix Auto ID. 
Although not every printer at Galexis has been fully integrated into SOTI Connect as yet, the results are promising. Thomas Rosenhammer: "We obtain important information and insights to assist our strategy and operations and can also increase the lifespan by taking suitable measures, maximising our ROI in the process."
What do the systems actually print?

Labels for internal mail, such as crate parcels, along with warehouse and dispatch labelling. "We label shelves, products and packages. On the ramp, for dispatch and during hand picking. However, the customer service department, above all, needs labels dispatch the products to the pharmacies," explains Stritzelberger.
Galexis is responsible for logistics within the Galenica Group.  What began as a joint purchasing cooperative of 16 pharmacists in French-speaking Switzerland in 1927 under the name Collaboration Pharmaceutique SA has since gone on to become "a central hub for the health and pharmaceutical industry in Switzerland". To safeguard medical care in the Alpine republic, the range of products and services has been continuously expanded over the past decades. 
The T8000 units print up to 2,000 white or coloured labels containing the relevant information along with machine-readable barcodes using the thermal transfer process. This ensures perfect legibility together with complete traceability throughout the process chain. This is a vital factor in the sensitive health sector and also with regard to patient protection.
The labels are supplied in rolls and, like the thermal transfer ribbons, can be loaded into the printer quickly and easily. A peeler enables the labels to be removed easily and then applied by hand. 
Consistent focus on potential optimisations

The company is currently testing an additional 8-inch class T8000 with the aim of accelerating the labelling process and replacing the roughly 400 kilogram presses which were previously needed for printing parcel delivery notes in DIN A4 format. "In view of the enormous quantities of these which we print, we would prefer folded paper Rather than roll paper because it is more efficient to process," emphasises Stritzelberger. 
Although the 8-inch T8000 is not prone to label jams despite operating at high speeds, the quality of the labels remains essential to ensure efficient throughput. Consequently, the consumables will be purchased directly from OPAL Associates AG because the "historically grown business offers our customers real added value. As a full-service partner, we can supply everything from a single source and perfectly match the material, hardware and software to meet the customers' needs. That is why we are one of the last system integrators here in Switzerland with our own label production," says Kölbl.
Another important productivity component

is the proven OPAL LabelmanagementTM. This is the label software for SAP® or, more precisely, for SAP ECC and SAP S/4HANA. The intelligent label organisation offered by "LBM" from OPAL makes creating managing and printing of labels directly from SAP far easier and more secure. The intelligent label organisation also enables the company to centrally control of company-wide printing processes, to use existing master data and structures, to implement standardisation and significantly reduce the level of support work. "Label management is capable of integrating with all of the modules relevant to the labelling process," explains Michael Kölbl.
During the process of implementing SAP, the labelling software is also being integrated within the Galenica Group and will be successively expanded to all of the subsidiaries in the coming years. More information is available at https://www.opal-labelmanagement.com/
About TSC Printronix Auto ID

TSC Printronix Auto ID is a leading manufacturer of innovative thermal printing solutions for the healthcare, manufacturing, transportation and logistics, retail and automotive, and hospitality industries. The company's two leading brands, TSC and Printronix Auto ID, together with more than 65 years of combined industry experience in developing, manufacturing and distributing high-performance Auto ID solutions make TSC Printronix Auto ID both a top player in the market and also a reliable partner for its customers. The diversified product spectrum ranges from cost-effective entry-level printers, flexible mobile printers and efficient desktop models to high-performance industrial printers and RFID printing solutions. The product range is complemented by innovative and economical colour label printers together with a wide range of consumables perfectly designed for the diverse printing systems. 
TSC and Printronix Auto ID are proud members of the TSC Auto ID Technology family. In the EMEA region, TSC is represented by TSC Auto ID Technology EMEA GmbH based in Zorneding (Munich). The company is responsible for the sales, support and marketing of the two brands, TSC and Printronix Auto ID, in the European, Middle East and African regions. The managing directors are Amine Soubai and Ladislav Sloup. TSC Printronix Auto ID sells its products exclusively via distributors and value added resellers (VAR).