How to Select the Best RFID Printer for Your Application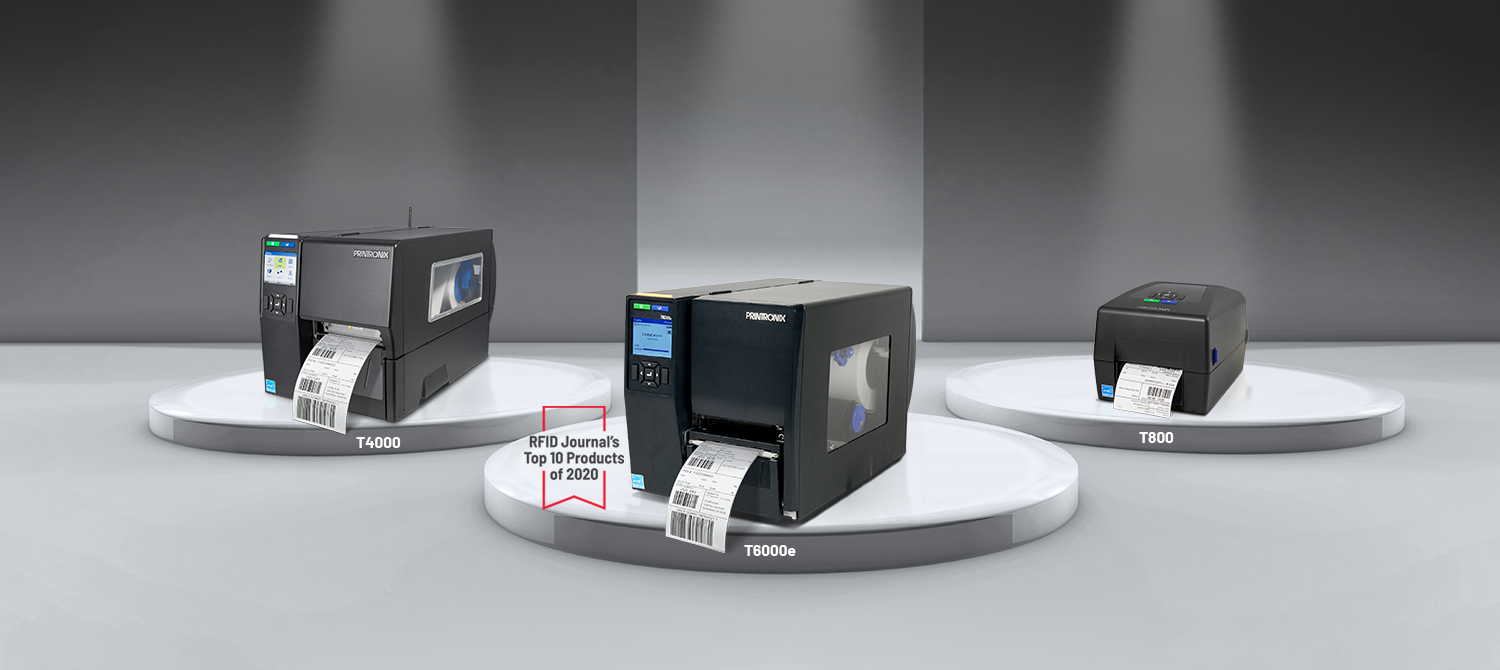 If you are looking to add RFID technology into your business, expanding your RFID application, or responding to new requirements for RFID encoded labels on your products, selecting the right RFID printer can be a business-critical task.
TSC Printronix Auto ID currently has three models of RFID enabled printers: the award-winning T6000e industrial printer, the T4000 mid-duty industrial printer, and the T800 enterprise desktop printer. Our Printronix Auto ID RFID enabled models offer a range of high-end features to help advance your business into the next generation of barcode label printing with RFID printing technology.
How the T6000e and T4000 Take RFID Tagging and Encoding to the Next Level
It is important to first understand how our RFID printers fit into what is currently on the market. Our RFID printers support all major RAIN and RFID standard commands and functions a user would need to print and encode RFID labels that meet industry standards.
Which features make our RFID printer models unique? The first difference concerns the types of RFID labels and tags that the printers are designed for. Both the T6000e and T4000 industrial printers are designed to work with on-metal tags and other complex and difficult tag constructions, such as plant stakes, thick plasticized Returnable Transport Item (RTI) tags, and stiff hang tags.
The T6000e and T4000 printers also utilize an encoding antenna that is positioned above the label feed path. The above-path antenna provides maximum performance and compatibility with on-metal tags. On-metal tags generally have a foam insulation layer under the face stock and also have a metal foil backing. These extra layers often prevent traditional below-path encoding antennas from communicating reliably with tag RFID inlays. The signals from a below-path antenna can be blocked by the foam and metal foil. With an above-path antenna on the T6000e and T4000, there is no interference from the foam or metal foil between the encoding antenna and inlay.
These two printers were also designed and engineered with robust feed mechanisms and tolerances. This allows for the use of tags like on-metals, plant stakes, and other thicker, less flexible tags. These types of tags often also have abrupt edges between each tag making it difficult to smoothly feed tags through the printer. With enterprise-level technology, our RFID printers were designed to be able to operate with these unusual tag constructions without snagging, peeling, or jamming.
Finding Next Level RFID Printers with Traditional and Reliable Printing Features
We have a proven track record for delivering durable and reliable printers that thrive in mission-critical environments and operate at peak performance, and our RFID printer models are no exception. There is a range of traditional differences and parameters of non-RFID printers that are also important to take into account when selecting the perfect RFID printer for your business.
The resolution of the printhead is an important feature to consider. This refers to the dots per inch (dpi) the printer is capable of generating. A higher dpi means finer, more precise printing. Our RFID printers come available with 203, 300, and 600 dpi options for high-quality label printing. A high-resolution printhead is something you should consider if you need to fit a lot of details on your label or if you are printing on a small 2D barcode.
Print width and print volume are things that can also impact your environment when integrating a new printer. Printronix Auto ID RFID printers are available with either 4-inch or 6-inch print widths. The level of output your business does in a day will determine the print volume your RFID printer will need to support.
Depending on the demands of your environment, you might need a high-performance, high-speed RFID printer to keep up with your other business processes. Luckily, our RFID printers are designed for high-speed and high-memory encoding to streamline your RFID print and encoding jobs.
The construction of your RFID printer will also be a factor in how the printer performs in your environment. Our T6000e and T4000 printers come with durable metal housing, and the T800 comes with a reinforced plastic construction to perform in even the toughest environments.
The physical space that a printer will take up in your environment is something to measure out before selecting your RFID printer. Some environments have very limited space and can accommodate only a small desktop printer. In this case, the T800 RFID printer would be a better fit for your operation.
In summary, there are two main questions you should ask when looking for the perfect Printronix Auto ID RFID printer to fit your needs:
What kind of tags do you plan to work with? If you plan to use on-metal or other thicker types of tags, then you should consider the T6000e or T4000 enterprise industrial printers.
What basic, non-RFID printer requirements do you have? Remember to consider how everything from printer performance, to printer size, and construction will play into your existing environment.
Solution Partners to Grow Your Business
Now that you have a better understanding of how to select the right printer for your application, please feel free to contact us with any questions or to find a reliable partner for your RFID needs. To learn more about RFID solutions offered by TSC Printronix Auto ID, contact your local sales representative or click here.