3 Barcode Labeling Industry Trends and Predictions for 2023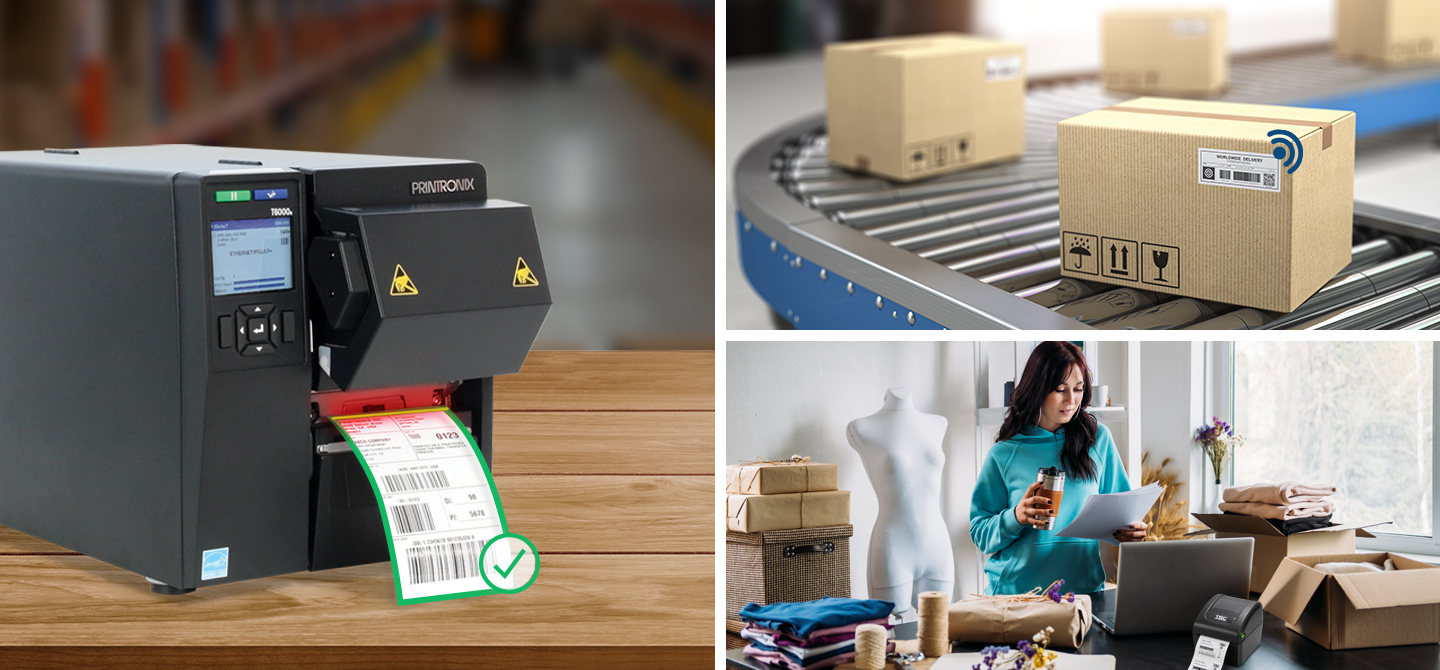 2022 was another year of expansion in the Auto Identification and Data Capture (AIDC) space. The AIDC market sustained sizable growth as more companies worked toward their digital goals to usher in a new era. The e-commerce boom which began during Covid continues to ripple through the supply chain. For many businesses in the AIDC industry, this has proved to be beneficial. As we look toward the future, we anticipate demand will continue to drive market growth. Here are three labeling trends your barcode and RFID label printing experts predict for 2023.
Increase in Logistics Automation
It's no secret that the economy is trending toward a recession. Historically, in times of economic uncertainty, many companies seek to cut costs by streamlining their workflow processes. Additionally, many sectors are still experiencing labor shortages that began during Covid and have been exacerbated since. More and more companies are investing in logistics automation to help optimize the operations taking place inside and outside their warehouses with the aim of boosting productivity and reducing overhead.
With the continued constrained labor market, logistics automation will continue to expand. This is especially true with major retailers, such as Walmart, where they are installing shipping and receiving automation equipment at the dock doors. Underlying the performance of this automation technology is the simple barcode. If the barcode can't be scanned due to poor print quality, the automation fails. Barcode inspection is a cost-effective and efficient process that can boost productivity where barcode labels are needed.
Our ODV-2D barcode inspection technology grades barcodes to ISO standards and stores a detailed report of each transaction. The integrated verifier reads each barcode, overstrikes the entire label of a rejected barcode, and reprints a new label all without operator intervention. This solution is cost-effective for many enterprises as it eliminates labor and saves money on expensive chargebacks on unreadable barcode labels.
Our T8000 is a premier high-end thermal printer with unmatched industrial performance. Not only does it feature nine major printer languages for easy integration into your existing workflow, but it offers barcode inspection in 4-inch and 6-inch printers. Our new 6-inch -barcode verifier is ideal for wide labels, particularly in the retail and automotive industries.
Increased Need for Traceability
The rise of e-commerce during the pandemic greatly impacted the supply chain, and integrally changed how commerce functions. In addition to dwindling supply and growing demand, consumers and stakeholders voiced a need for increased transparency from manufacturers and businesses. It was no longer enough to know when an item was shipped, consumers needed access to track their goods throughout the shipping process. As this demand continues to grow, so will the need for advanced traceability. Technologies such as RFID will become more widespread and commonplace. We saw this unfold with Walmart's tagging initiatives in 2022 as well as Chipotle's implementation for their suppliers.
Another need for increased traceability is regulation. Food traceability will expand as the FDA passed its final ruling on FSMA 204 in November 2022. Within two years, anyone who manufactures, processes, and/or packs food, will be required to establish and maintain records with certain key data elements containing specified data tracking information. RFID will continue to optimise advanced tracking and tracing abilities.
Our award-winning T6000e enterprise printer, available in 4-inch and 6-inch, offers RFID capabilities to encode and print on standard RFID labels as well as most on-metal tags. The T6000e has the ability to print up to 10,000 labels a day at high speeds in addition to high resolution at up to 600 dpi printing for small-label applications.
Increased Use of Remote Printer Management Systems
Even with the increased use automated systems, printer fleets still need to be managed. In addition to streamlining processes, many enterprises are seeking to cut labor costs. Remote printer management systems will continue to be an ideal solution offering flexibility and efficiency unattainable with in-person solutions.
Not only will printer management systems continue to expand and develop, but cloud-based solutions will become ubiquitous. The trends suggest highly secure cloud-based management systems will be in demand. With more devices being remotely managed, more sensitive information will exist in the cloud. Companies will need the most secure options to avoid cyberattacks and keep data safe for them and their customers.
Our enterprise printers offer a cloud-based remote printer management system, SOTI Connect. This subscription-based management tool provides enterprises with 100% visibility and management of business-critical printers. SOTI Connect reduces unplanned printer downtime and workflow disruptions with real-time printer health monitoring. It's the ideal productivity enhancement for our enterprise line printers.
Your Barcode and RFID Label Printing Experts
As industry leaders in the AIDC space for over thirty years, we are dedicated to bringing our customers innovative solutions to fit their unique needs. For high-quality thermal printing solutions and Genuine Supplies, check out our website or contact your local TSC Printronix Auto ID sales representative.