ID Services: Embedded Solutions for Warehouse Management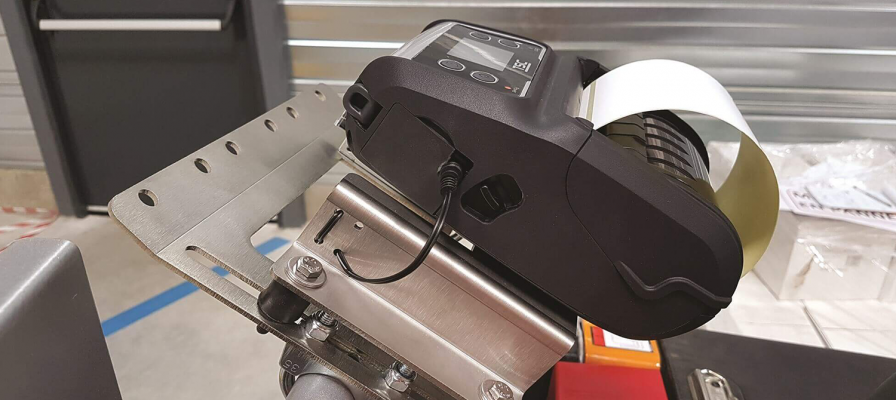 Background:
In any warehouse or distribution center, it is essential to be efficient in managing all logistical processes. From receiving to final shipping, stock transfers, order picking or inventory management, these activities require constant movement by operators and forklift drivers. Given that every minute counts, the goal of a warehouse or DC manager is to optimize these movements and eliminate dead heading.
ID Services, an integrator and expert in logistics solutions and TSC partner in France, has developed a turnkey solution to meet the needs and expectations of logisticians and industrial operators. As warehouse and distribution centers grow in size, the use of stationary large industrial printers located throughout the facility has become more inefficient as operators have to go back and forth to retrieve labels. This is particularly the case during order picking and shipping activities. To avoid these wasted movements, ID Services created an "embedded" mobile printing solution.
Solution:
To meet the needs of its customers and work within the operating constraints of the warehouse, ID Services developed two different solutions to facilitate printing and labeling operations while providing operators full mobility and flexibility.
Mobile Printing Solution for Forklift
ID Services has embedded an industrial PC and mobile printer on any type of lift truck, either motorized or not, using a specifically designed mechanical support and power converter. Given the limited space on the new generation of forklifts, ID Services chose the TSC Alpha-4L mobile printer due to its compact size. The printer's small footprint ergonomically fits within the constraints of the operator workstation. In addition, the Alpha-4L is reliable and robust, and provides high-quality print speeds. Thanks to this embedded solution, operators benefit from a suitable "nomadic" workstation. They can manage their activities in full autonomy and print shipping labels directly from their own forklift, using TSC's Alpha-4L printers.
Mobile Printing Solution for Portable Desks and Trolleys
This solution integrates a powerful Alpha-4L printer, a mechanical unwinder and a support kit to any type of mobile desk. The printer is fixed to the desk in a simple and stable way, while optimizing the ergonomics of the mobile desk. The system also makes it possible to install a large capacity roll of labels to reduce the frequency of changing consumables.
In addition, ID Services can embed an Alpha-4L directly on trucks and trolleys. Equipped with WiFi communication, the printers offer real-time connection and allow operators and forklift drivers to edit and retrieve their printed labels immediately. These embedded solutions significantly reduce operator time of having to walk and retrieve labels from stationary printers. These embedded mobile printing solutions considerably improve warehouse logistic operations.
Benefits:
Embedded mobile printing solution
Significant reduction of the back-and-forth of logistics operators
Easy integration of TSC Alpha-4L printers
Optimization of the operator workstation
Improvement of logistics operations in the warehouse
Alpha-4L Features:
Compact and lightweight, the Alpha-4L is one the most robust and reliable printers on the market. This 4-inch (102mm) mobile label printer is able to work with any printing application and can print clear and accurate labels, documents or receipts at speeds up to 100mm per second. Equipped with a plastic case, with over-mold rubber, the Alpha-4L is water and dust resistant. In addition, the printer is able to withstand falls up to 1.8 m thanks to its protective case (option), and provides IP54 protection.
Offering a large range of wired and wireless communication interfaces: USB 2.0, RS-232, Bluetooth or WiFi 802.11 a/b/g/n, the Alpha-4L can be connected to any type of fixed or mobile device. This portable printer provides long life capabilities thanks to its 5800 mAh high capacity Li-ion rechargeable batteries. The Alpha-4L also offers large media loading capacity to reduce the frequency of material change, and linerless media can also be used. Moreover, the printer offers a 2-year warranty for total reliability.
About ID Services:
ID Services is a value-added systems integrator specialized in WiFi, IoT, NFC and AIDC solutions. Founded in France in 2002, the company belongs to the European group AUTOTECH-ID. With great expertise in the field of automatic identification, the company offers solutions integrating a wide range of systems: embedded PCs, barcode readers and printers, ring scanners, headsets and voice solutions, RFID scanners, wireless access points and many other specialized accessories.
Thanks to years of experience, ID Services designs and delivers customized solutions to meet customer needs in different environments (warehouse, factory, department store, etc.). In addition to integration, the company provides complete installation, configuration and commissioning on site of all types of products and ID devices (portable, fixed and embedded).
ID Services also offers dedicated training for end users for seamless operation of their new equipment.
MARKET:
Logistics & Warehouse Management
APPLICATIONS:
Shipping & Receiving Control, Storage & Inventory Management, Picking & Order Processing
MODEL:
Alpha-4L