Expedite e-Commerce Fulfillment with Label Automation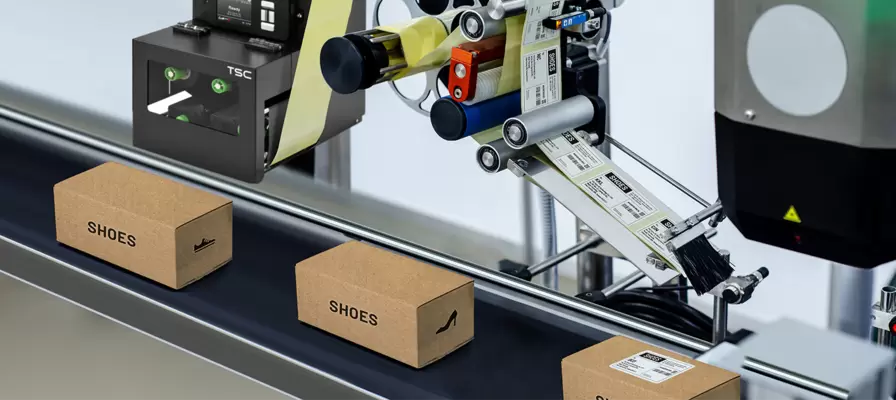 PEX-1000 Series Offers Easy Printer Integration to Enable Systems Integrator to Automate Labeling for e-Commerce Customer
Background
The COVID-19 pandemic not only brought changes to our everyday lives but transformed how we do business as well. Because of the pandemic, both automation and e-commerce were propelled forward at lightning speeds. China's e-commerce sector makes up 57 percent of global online sales1, enabling sellers to get products to buyers even when retail shops were closed during the pandemic.
A Systems Integrator (SI) who specializes in print and apply solutions, serving customers across e-commerce, transportation and logistics industries in China, was tasked with helping their customer expand their automated labeling capacity. A well-known online shoe e-commerce company, it was experiencing surging online sales and needed to create a new labeling line to fulfill 30,000 labels per day, in addition to two automated labeling systems already in place. The SI was able to easily expand the e-commerce company's labeling with simplified integration and system setup using the PEX-1000 Series Print Engine.
Challenges
The shoe e-commerce company needed a new automated labeling system that could process 25-30 labels per minute to meet the daily 30,000 labeling requirement for one-day delivery. At the same time, the system needed to be capable of handling different labeling heights from 10 to 15 centimeters due to various shoe box sizes. The new system also had to meet cost constraints, due to economic uncertainty.
Building a new system from scratch was not a good option due to the time, effort, and financial constraints it presented. To find a quick and cost-effective solution, the SI had to consider many components: system stability, reliability, consistency, and user experience. They needed a system that could meet all these criteria and was robust to maximize uptime, able to efficiently handle constant operation over a long period of time, while delivering a good user experience— even after major components replacement, such as the print engine.
Solution
Taking everything into consideration, the SI decided to go with TSC Printronix Auto ID's PEX-1000 Print Engine as a replacement for one of its existing print and apply solutions. The PEX-1000 met all of the basic criteria needed. The print engine also possesses numerous advanced technologies to deliver outstanding performance for the project specifications, including high imprint accuracy with fast print speeds up to 18 inches per second (ips) to meet the requirement of processing 25-30 labels per minute. This means the e-commerce company will have no problem meeting the current capacity requirements and exceeding them, leaving room for their future capacity expansion. The PEX-1000 with the de facto mounting standard for all label applicators allows the print engine to be installed in the top and down orientation of assembly. Equipped with a GPIO interface to simplify system control, the PEX-1000 also supports GPIO emulation for major printer brands. This greatly reduced the effort the SI needed to put forth during the migration.

Direct thermal printing was also of the utmost importance when determining what system to use to protect consumer's personal data. Because no ribbon is required during the PEX-1000 printing process, the concern about personal privacy is greatly reduced.

To accommodate the industry-specific application, TSC Printronix Auto ID customized its off-the-shelf product, including removing specific components such as the ribbon supply spindle, rewinder, and encoder sensors. This customization allowed more space for daily and routine maintenance, and reduced hardware cost. Additionally, the PEX-1000 printhead's life cycle is two to three months longer than printheads from the industry-leading brand, according to the SI. This decreases downtime and saves operational costs in the short and long run for the e-commerce company.

Figure 1: The PEX-1000 is a highly flexible print engine, making customized requirements and adjustments easy. In this case, removing components created more space and makes maintenance easier.
Why TSC Printronix Auto ID
Strategically, adding the PEX-1000 Print Engine to their print and apply system product line allows the SI to expand their solution portfolio to serve high-value customers. In terms of integration and product development, the SI only needs to focus on their core competency. That means they can leave print engine technical issues and support, both in hardware and software, to TSC Printronix Auto ID. From an operational standpoint, TSC Printronix Auto ID offers a reliable source for a powerful print engine system, easing the SI's supply chain constraint with existing product lines. Additionally, the economical price of the PEX-1000 series provides the SI a competitive advantage to explore more business opportunities, including those with similar cost constraints such as their shoe e-commerce customer.
To learn more about TSC Printronix Auto ID's mobile printers, please visit TSC website.

Figure 2: A Quick Overview of the PEX-1000 Features
 
1 Cheng Li and Ryan McElveen, "Will China's e-commerce reshape a reopening world?" https://www.brookings.edu/articles/will-chinas-e-commerce-reshape-a-reopening-world/