TSC Printronix Auto ID Strengthens its RFID Printer Range with Launch of its First Mobile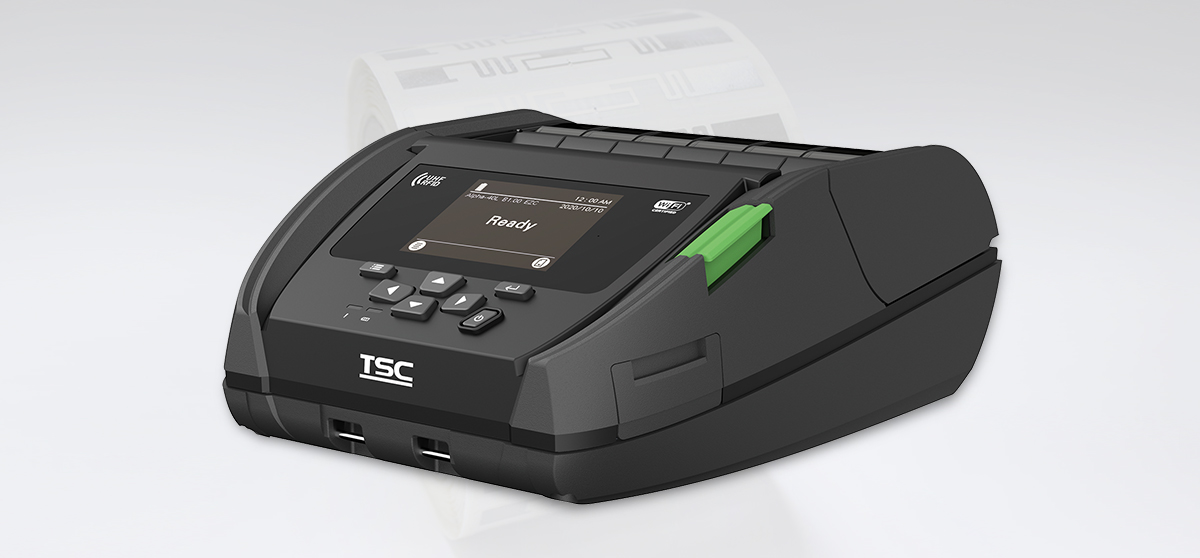 Zorneding, 27, April 2022 – On sale from today is TSC Printronix Auto ID's first mobile RFID printer, the Alpha-40L RFID. This compact, mobile powerhouse is further evidence of TSC Printronix Auto ID's expertise in RFID and marks a resilient step forward in production and logistics processes.
The Alpha-40L RFID is extremely robust and capable of fast anytime, anywhere printing and coding of RFID tags and labels. Its simple functionality and excellent battery capacity make it ideally suited to long shifts of asset tagging and labelling in transport and logistics, healthcare, retail, manufacturing, construction and food and drink. Aside from efficient printing and coding of a wide variety of RFID labels, this new direct thermal mobile printer can also print 1D and 2D codes and standard labels making it a versatile addition to any fleet. The print width of the Alpha-40L RFID is up to 104 mm (4.09"), its print resolution is 203 dpi and it has an incredible print speed of up to 127 mm per second (5 ips).
Despite its solid look and rugged construction, the Alpha-40L RFID weighs deceptively little at just 1,025 grammes (including battery). Enterprises will appreciate the robustness of its build, which has been shown to survive falls of 1.8 metres without damage. Tests have further shown that the mobile printer, classified according to protection class IP54, defies dust and water without an additional cover. Users can, however, opt for a protective cover for harsher environments such as outdoors and this would enable the device to withstand falls from 2.5 metres. Its solid design meets military standards MIL-STD-810G for fall and vehicle vibrations.
The Alpha-40L RFID is based on the same modern technology that TSC Printronix Auto ID uses in its enterprise-class RFID printers and can therefore encode even complex inlays. Automatic RFID calibration, seven menu buttons, intuitive navigation and a clear 2.3" color LCD display make the mobile device very user-friendly. Integrated software supports SDK software packages for common operating systems such as Windows™, Windows™ Mobile (WinCE), Android™ and iOS, and makes set up, programming and operating the printer not only particularly easy but also fast.
The Alpha-40L RFID's rechargeable 7.4V DC 6,200mAh Li-Ion battery and TSC's intelligent battery management system guarantee uninterrupted operation during complete work shifts. The Li-ion smart battery, when paired with either SOTI Connect IoT management tool or TSC Console remote printer management, enables users to work confidently all shift while their battery's power consumption and the device's performance are being monitored.
Fast, secure wireless connection can be established via either the latest 802.11 a/b/g/n/ac WiFi Bluetooth® 4.2 or Apple-certified MFi Bluetooth® 5.0. Such modern wireless technology ensures employees are always connected, well informed and able to print the required labels where needed. For carrying and operating comfort as well as performance, TSC Printronix Auto ID offers a wide range of accessories for the Alpha-40L RFID, from belt clips and shoulder straps to powerful docking stations, rechargers, adapters and spare batteries.
For more information on the Alpha-40L RFID and the service and warranty programs offered, contact TSC Printronix Auto ID.
ENDS