Labeling Solutions for Mission-Critical Applications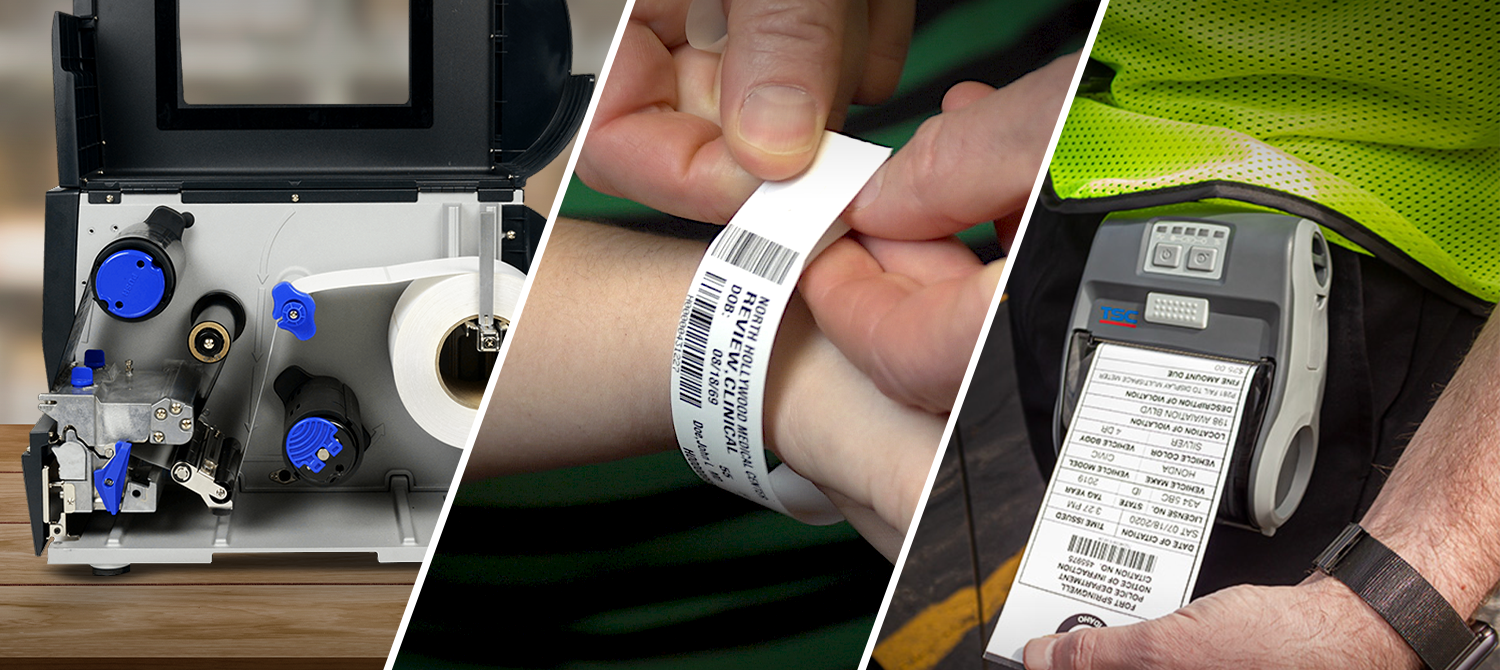 A vital component to any well-managed supply chain is labeling and the quality of your label is essential. From warehouses to distribution centers, hospitals to food and beverage, labels can help you save money, reduce errors, and meet regulatory standards. TSC Printronix Auto ID Genuine Supplies offers a comprehensive selection of label stock and ribbon formulations that provide guaranteed performance through your TSC and Printronix Auto ID printers.
Genuine Supplies are manufactured to strict quality standards to ensure optimum performance and user satisfaction. Using Genuine Supplies decreases the wear and tear and extends the life of your printers. From core to cut, Genuine Supplies are engineered to work flawlessly through your TSC or Printronix Auto ID printer. This article discusses how Genuine Supplies, specifically engineered to optimize the performance of your TSC and Printronix Auto ID printer, can provide you with consistent performance and worry-free reliability for your mission-critical application.
 Labels and Materials for On-Demand and On-The-Go Printing
Mobile thermal printers enable users in a wide range of industries to print materials on-demand. This ability to print documents, receipts, and labels without stationary printers provides significant benefits to businesses and their customers.
One of the largest verticals we support for mobile printing supplies is for law enforcement and citation printing. Mobile parking citation printing can significantly streamline and economize parking enforcement. Because of this, there has been a rise in parking and law enforcement agencies who are switching from handwritten ticketing to mobile citations. Mobile citation printing replaces handwritten tickets by utilizing a portable device such as a PDA or smartphone to send information to a lightweight mobile printer. The information is electronically saved, and citations are printed on the spot.
With more and more companies starting to mobilize their workforces, there has also been an increased demand for mobile printing and supplies in industries like warehouse distribution, healthcare, and retail to increase workflow efficiency and reduce costs.
Desktop Printers and High-Quality Labels Increase the Safety and Accuracy of Healthcare Operations
Our high-performance line of desktop label printers can handle the critical task of ensuring the safety and accuracy of labeled materials for hospitals and medical centers. In a medical environment, even the simplest of mistakes can lead to serious consequences. In this environment, labels are crucial to ensuring patient safety. Healthcare labels are an important communication tool between patients and healthcare providers. Given their importance in providing accurate and timely communication, medical labels must be designed and implemented to meet the highest standards of health and safety.
Genuine Supplies has extensive experience in healthcare label solutions including patient identification, chart labels, medication labels, laboratory labels, blood bag labels, and infection control labels for hazardous materials.
Increase Efficiency and Optimize Asset-Tracking with Our Industrial Supply Chain Solutions
Proper labeling reduces or eliminates errors and can easily be scaled up as a company grows. Industrial printing and labeling play a critical role in well-managed supply chain processes. Whether you are in the warehouse industry looking to reduce labor costs or a distribution center that wants to reduce liabilities supply chain labels offer many operational benefits.
The industrial labeling solutions from TSC Printronix Auto ID Genuine Supplies are ideal for any supply chain and logistics environment. Our supplies line includes scannable barcode labels to increase efficiency and reduce common picking and shipping errors. Customers can streamline their processes using Integrated labels that combine shipping labels and documents such as packing lists or invoices. Our thermal label and ribbon solutions offer efficient on-demand variable printing. Our GHS labels can help customers identify hazardous materials and meet regulations.
Finally, with track and trace label technology your customers can know where any pallet is in the supply chain. RFID-encoded labels can be used to track and capture information about products, assets, and inventory and is used in applications tracking goods through the supply chain. They provide an affordable solution for companies looking to increase the speed and accuracy of data collection.
A Trusted Partner for Thermal Printing Supplies
TSC Printronix Auto ID offers intelligently designed thermal printing solutions, and Genuine Supplies can provide all of your media, with stock and custom labels, receipt rolls, thermal labels and ribbons, and much more. We work with you to create efficient, and affordable label solutions.
To find the best fit supplies for your thermal printing application visit our TSC Printronix Auto ID Genuine Supplies website or contact your TSC Printronix Auto ID local sales representative.