Industry Backing Fuels Growth in Linerless Labels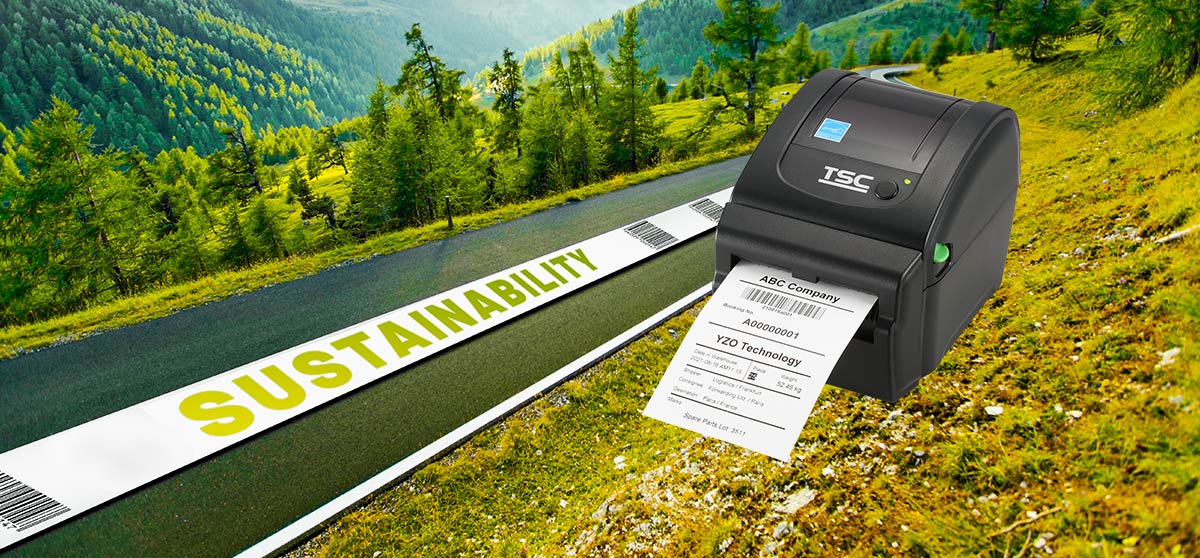 From: Neil Baker, TSC Printronix Auto ID EMEA's Product Manager Consumables
Estimated reading time: 7 minutes
According to a report by Fortune Business Insights, the global linerless labels market is forecast to reach 3.4 billion USD by 2027, growing at a CAGR of 5% from 2019. An increased demand for convenience foods was said to be the primary driver for growth but no backing paper being sent to landfill means linerless solutions represent a real step forward towards more sustainable labelling.
Siliconised label carrier sheets are non-recyclable so when they are sent to landfill they contribute to CO2, which costs both the environment and the company disposing of the waste material. It's estimated that over 600,000 tons of liner waste material ends up in landfill.
The food and drink industry is expected to account for a significant share of the linerless labels market, as many manufacturers and processors see it as a way to improve their carbon neutrality, but the rise in online shopping will also see growth from the transport and logistics sector.
Aside from environmental benefits, what other advantages do linerless labels offer?
More labels per roll – without a silicon backing sheet you could be getting between 50% and 60% more labels on a roll.
Lower distribution and storage costs – a reel of linerless labels weighs less and takes up less space so you'll save money on both shipping and storage costs.
More uptime – being able to print labels as long, or as short, as you want from the same reel gives you flexibility and also saves you changeover time of switching between rolls of different fixed sized self-adhesive labels. And as users don't have to peel liners from the backing sheet nor clear up the waste it produces they can be more productive.
A snapshot of our linerless-ready models
We have a number of printers in our range that can output linerless labels, but a few of our best-sellers include three Alpha Mobile Series and one desktop, the DA220.
The 4" DA220 is a highly versatile and affordable direct thermal desktop device. When ordering this printer new, you can specify that it's delivered linerless with either a guillotine cutter or tear option; existing DA220 devices can also be upgraded in the field to be linerless. The printer's quality, double-walled clamshell structure means it's very rugged and ideally suited to retail environments, hospitality, and goods in/out areas. This compact desktop printer is easy to load and prints at speeds of up to six inches per second. Its large 60-watt power supply enables you to produce high quality labels even at fast print speeds.
On-the-go linerless printing
When it comes to mobile printers, we offer a choice of three devices that have the specialist capability to print linerless labels. The pocket-sized Alpha-2R is a small device, measuring just 89.3mm x 134.5mm x 56.5mm. Its rugged plastic construction has been tested to withstand drops of up to 1.5 metres and its IP54-rated environmental case is resistant to dust and water. A single battery charge will give you up to 17 hours of printing so it's perfect for long shifts of applications such as ticketing, proof of delivery slips and receipts for field repairs. The linerless version can be ordered as a factory option.
The Alpha-30L and Alpha-40L are smart, industrial grade mobile label printers that can be specified with detachable, outside wound linerless label kits. These heavy-duty, drop-resistant printers perform extremely well in challenging conditions such as ambulance services and pick, pack and applying operations. If you're looking for fast, effortless printing on the go with the flexibility afforded by linerless labels then either the Alpha-30L or 40L will fit the bill.
Our third linerless label mobile printer option is the TDM Series, a palm-sized powerhouse for rugged, on the go printing. It's equipped to operate across different platforms with multiple connectivity options. Its real-time printer health status provides two important functions; to ensure high quality print every time, and to monitor charging status to maximise battery capacity. Both the TDM-20 and the TDM-30 perform well in harsh environments, withstanding drops of up to 2.5 metres in their protective cases, or one metre in tumble tests. If you're looker for a more sustainable and greener on demand print solution, the linerless kit option available on TDM Series will fulfil that requirement.
Genuine label supplies
Facestock and adhesive of the TSC Printronix Auto ID genuine linerless supplies have been thoroughly tested and factory qualified for use in our specialist linerless printers. It means we can ensure complete compatibility and high quality.
It has been a challenging time in label stock for several months, with shortages reported in many areas and paper mills strikes compounding availability. But we have a good stock of linerless supplies and a fast delivery service, which means you don't need to tie up capital in excess inventory. Our linerless label stock promises excellent image sharpness and durability and represents a small step forward in reducing your carbon footprint.
The environmental benefit of linerless labels is a powerful one but so too are the opportunities for minimising downtime, boosting productivity and saving costs. For more information visit the supplies section.