V & K Lagerlogistik-Service selects industrial printers for printing two-color chemical-product labels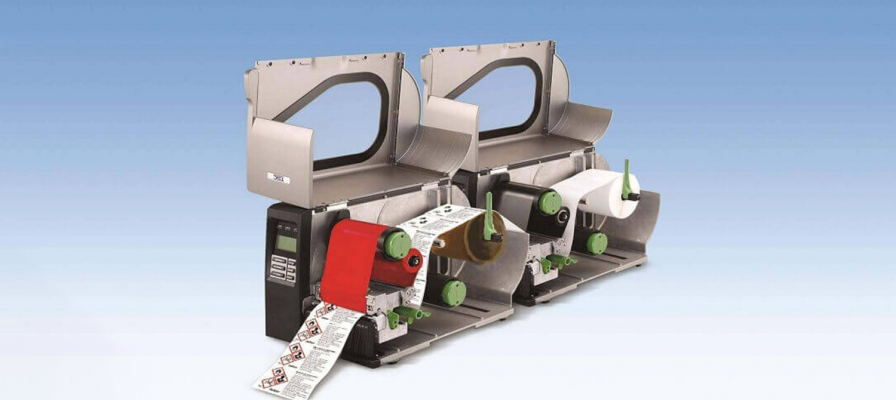 Background:
The European Parliament and Council law passed in 2010 requires companies that produce and distribute chemicals and hazardous substances to label their products with information that meets CLP Regulation (EU) No1272/2008. (For chemical "composites," the regulation goes into effect June 1, 2015.) Each label must display a hazard pictogram – a black symbol on white, framed by a red-diamond shape. This requires a printer that can produce two-color labels.
Solution:
To meet the two-color label requirement, V & K Lagerlogistik-Service GmbH in Gross-Bieberau, Germany, decided to configure in tandem two high-performance TTP-2410M Pro series print modules. The two thermal transfer printers are switched in series, with the first one equipped with a black transfer ribbon and the second with a red ribbon. V & K also developed special Windows-based software to control and synchronize the two single printers within the configuration.
"It was this synchronization, while using standard printer drivers, that was our biggest challenge," said Manfred Vetter, managing director. "However, we were very successful in this regard with the development of our 2color Print Controller. As a result, we now produce inexpensive two-color labels that meet all the requirements of the EU GHS Regulation."
The 2color Print Controller's user-friendly software is designed to meet the Global Harmonised System (GHS) standard label requirements, while offering flexible design options. The maximum label size depends on the printer hardware used, and the throughput varies based on the label size. The label flow is adjusted to give the "dancer roller" enough space to operate and to maintain the optimal distance between print modules.
In conformance with the GHS Regulation, hazard warnings and precautionary statements can be inserted as text modules directly from the database. The associated pictograms are generated automatically and are easily retrievable as pictorial elements. Variable data, such as batch number, nominal quantity or best-before date, can be easily accessed and modified even during label printing. When accessing data, the user database communicates directly, via a software interface, with the printing system.
Benefits:
Optimization of processing and reduction of time and costs
Workable, affordable solution
Extended label durability
High resistance to chemicals and adverse environmental conditions
TTP-2410M Pro Features:
TSC's TTP-2410M Pro die-cast aluminum label printer is designed to meet the most demanding barcoding and identification requirements, offering plenty of standard features than any comparable printer – at a very affordable price.
The TTP-2410M Pro boasts a print speed up to 12 ips – the fastest in its class – and supports up to a 600-meter-long ribbon, along with a full 8.2-inch OD media roll. The printer comes standard with a 32-bit RISC CPU processor; internal Ethernet, Centronics, USB 2.0 and PS/2 keyboard connectivity; 32 MB SDRAM and 8 MB Flash memory; and an SD memory-card slot for inexpensively adding up to 4 GB of additional Flash storage.
With its combination of speed, durability and easy programmability, the TTP-2410M Pro is ideal for mission-critical printing applications – either on-demand or batch. (Note: For horizontal-format labels, TSC's TTP-268M printer supports print widths up to 168 mm, and the TTP-384M is ideally suited for print widths up to 219.5 mm.)
About V & K Lagerlogistik-Service GmbH:
V & K Lagerlogistik-Service GmbH was founded in 2000 by Managing Directors Manfred Vetter and Michael Krüger. Initially, the company focused on wireless data-transfer systems and warehouse logistics and control. During the last decade, the firm has expanded its activities, establishing itself as one of Germany's leading suppliers of label printers, spare parts and supplies, with more than 10,000 printheads sold each year.
V & K's main product line now includes an extensive stock of mobile and industrial label printers, wear parts and consumables. The company also offers a wide range of customer services, including technical consulting and implementation, after-sale support, spare parts procurement, and repair and maintenance.
MARKET:
Chemical Industry and Dangerous Goods
APPLICATION:
Two-color Printing
MODELS:
TTP-2410M Pro
TTP-268M
TTP-384M