The TTP-2410MT was successfully installed at leading retailer in Kingdom of Saudi Arabia (KSA)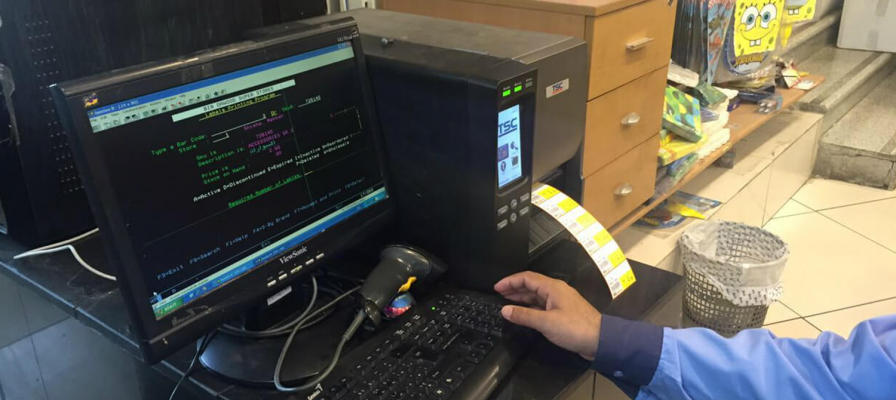 BIN DAWOOD Superstores is one of the leading Superstore Chains of the Kingdom of Saudi Arabia. The chain is split into two brands, "Bindawood & Danube", which are setting bench marks for the industry. They have 40 branches in three major cities and are expanding in the near future. BIN DAWOOD continuously adds new products to their inventory lines to be able to meet day-to-day customer demands.
To meet this growth, they decided to search for a reliable technological solution that will help them manage the daily inventory changes. Their objective was to find a heavy duty printer that could manage the customer flow given that their stores operate 24 x 7. They selected the TTP-2410MT printer from TSC because it matched the IT and in-store requirements listed below:
Requirements:
Reliable and Long Life Print Head
Access Control
24 x 7 On Power and Spontaneous Work Cycle
DA Integration
Arabic Font Printing
203 dpi resolution
High Speed and Energy Efficient
Plug-and-play Zebra™ and Eltron™ language emulation
Three Years Complete Warranty covering print head
Local and Remote Area Service and Support
Solution:
After comparing different printer models, specifications and features that were presented by a number of service providers including TSC reseller AFLAK Electronic Industries Co. Ltd., the TTP-2410MT was the preferred printer. Given its high speed output, heavy industrial specs and thermal smart control printing process, the TTP-2410MT can print barcodes for thousands of products at speeds of 14 inches per second. To date 18 printers have been installed with more forecasted.
The BIN DAWOOD group uses the TTP-2410MT printer on production lines to label their own branded products as well as other manufacturers products. This allows them to control and monitor inventory and help reduce or eliminate data entry errors. In addition, this makes it easy to manage data and generate reports, which allows for better and quicker decision making. For BIN DAWOOD, TSC barcode printers are an inexpensive and user-friendly tool to save time and money.
Examples for labeling:
Shelves
Fresh bakery preparations
The rugged, heavy-duty, full die-cast aluminum structure is ideal for tough environments. The printer ensures fast and clear printing with a shelf-sticking process. This is especially important during promotions and special offers, improving label readability. The easy-to-use, user interface improves staff productivity, expediting workflow and improving operations in the Fresh Bakery.
Benefits:
In General:
Accuracy:

Improved data accuracy by labeling specific products that are branded for BIN DAWOOD

Reporting:

Automates data collection so that reports can be generated showing a product's performance
Attain daily updates to avoid delays
Provides better forecasting

Efficiency:

Increased employee productive
TTP-2410MT in particular:
Facilitate labeling and enhanced print quality through "Thermal Smart Control™"
Touch screen for basic operation is easy-to-use
Improved label readability and accuracy on all shelves and products
Diagnostic tool acts like a control center for the whole printer
Simple to integrate and easy-to-use interface
Quick ERP Integration/Setup and printer installation
Blazing fast 14 inches per second speed
Controlled access for the printer
Internal Ethernet, USB 2.0, USB host, parallel + serial interfaces are standard; giving flexibility for the future
Affordable and professional print solution
About BIN DAWOOD:
BIN DAWOOD aggressively started penetrating the market in 1984 with their main focus on delivering the best service to meet customer needs. It is now considered one of the largest chains in KSA, with 40 branches located in "Madina, Mecca and Jeddah" with two brands: "BIN DAWOOD & Danube". Their vision is to become the first retailer in Saudi Arabia and the Arab World to have self-checkout technology as a means of demonstrating their commitment to implementing new technologies as they grow. The group has several international awards for its high-quality, customer experience and innovation.
MARKET:
Retail
APPLICATION:
Labeling branded products on production line shelves
MODEL:
TTP-2410MT