TSC helps its parent company expedite delivery of semiconductor components to European customers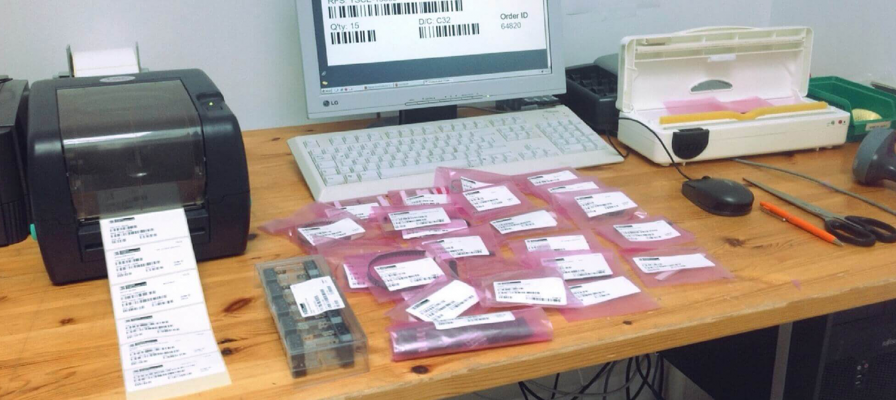 Background:
The European headquarters of Taiwan Semiconductor, located in Zorneding near Munich, Germany, provides customers, interested partners and distributors with a chance to evaluate and test specific products before making a purchase. The sensitive high quality products such as diodes, bridge rectifiers, MOSFETs, transistors, analog and lighting ICs or linear voltage or switching regulators, for example, are packed safely and delivered as single units or complete sample boxes to the recipients. Such product samples are also sent in the case of special promotion activities. The orders are processed on an up-to-date delivery list, and all relevant data and reports are captured in the internal system and available for sales and customer service in real time and on demand.
Solution:
Previously, address labels, along with identification labels for sample boxes and individually packed plastic bags, were produced by hand, a time-consuming, cumbersome process. To speed up its labling operation, Taiwain Semiconductor decided to deploy three high-powered TSC printer models: the TTP-345, TTP-243E Pro and ME240. The TTP-345 is used to create self-adhesive labels for plastic bags containing individually packed smaller components. Each 80 mm x 40 mm label contains a product barcode, component name and designation, item quantity and company data. Printed at 300 dpi, the high-resolution image is easily readable by the human eye and by a barcode scanner. Address labels, which have dimensions of 80 mm x 100 mm, are printed with the TTP-243E Pro. And TSC's high performance industrial ME240 printer is used to create DIN A5 format labels, which are affixed to sample boxes.
Benefits:
Product labeling on demand
Faster printing process
High operating comfort and quick material changes
TTP-345, TTP-243E Pro and ME240 Features:
The 4" wide thermal transfer desktop printer TTP-247 series offers a user friendly clamshell design with a large 5" OD center biased media capacity. While TTP-247 features 203 dpi resolution and print speeds up to 7 inches per second, the 300 dpi TTP-345 is ideal for 2-D barcodes, fine text and small graphics labeling. Top of form sensing by gap, black mark, or notch is standard and completely adjustable from side to side.
TSC's entry-level TTP-243 Pro desktop printer series consist of three models, including economy printer TTP-243E Pro, that offers a resolution of 203 dpi and print speed of 3 ips. One of the key features is its innovative dual-motor print engine, which incorporates a 32 bit high performance processor that can handle high volumes of data without sacrificing throughput. The TTP-243 Pro holds up to 8.4 inch OD label rolls and has a ribbon capacity of 300 meters. It also features two standard interfaces – RS-232 serial and USB 2.0.
The ME240 series features a small footprint and low profile design that fits where larger industrial printers do not. The printers all-metal construction and die-cast aluminum print mechanism engine is durable enough to withstand the toughest production environments and to handle 450 meter ribbons. Standard features include USB and Serial connectivity, a 2-button 3-LED (basic model)/ 6-button LCD (advanced model) control panel 3-button LED display, Real Time Clock, 8 MB SDRAM memory and 4 MB Flash memory. Print resolution is 203 dpi, print speed 6 ips.
About Taiwan Semiconductor Co. Ltd.:
Taiwan Semiconductor was established in 1979 and remains under the direction of its founder and CEO Arthur Wang. The company has grown from a local manufacturer in Li Tse, I-lan county, Taiwan, to a global enterprise with 2,000 employees and 13 sales offices worldwide. Recognized as the one of the world's leading rectifier manufacturers, the company has expanded its product portfolio, which now includes analog ICs, power transistors and MOSFETs and power-management solutions. Its products are used in a wide array of applications in the automotive, computer, consumer, industrial, telecom, photovoltaic and medical industries. The company's four production facilities in China and Taiwan are fully compliant with current automotive and environmental standards, including TS16949, ISO9001 and ISO14001.
MARKET:
Semiconductor / Electronic Industry
APPLICATION:
Marking of product packing and sample boxes
MODEL:
TTP-345

for small product packing

TTP-243E Pro
ME240