Rugged TSC Alpha-3R helps with parking ticket enforcement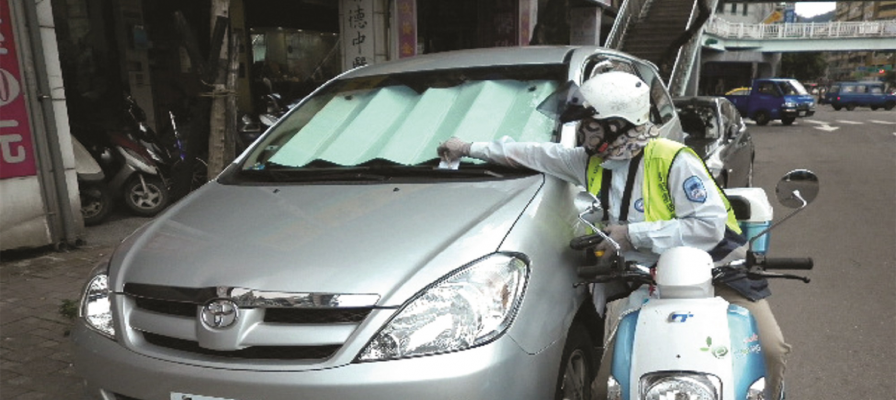 Background:
To expedite parking ticket processing, Taiwan municipalities increasingly rely on handheld citation writers and automated parking management systems to more efficiently issue traffic tickets. The mobile technology decreases human error and handwriting errors, while streamlining city parking operations and generating increased ticket revenue.
Solution:
Issuing operators ride eco-friendly electric motorcycles to patrol in designated parking areas. Using a hand-held PDA and TSC's Alpha-3R mobile printer, parking enforcement can complete and print a parking citation in 5 seconds or less. All relevant vehicle information – license plate number, model, car brand, and parking location – is first scanned and populated into the appropriate application fields using the PDA. Two barcodes, the first recording the name of the private agency responsible for the parking citation and the second storing a record of onsite parking photos, are also included in the citation. The data is then transferred quickly and securely from the PDA to the Alpha-3R via Bluetooth, and the ticket is immediately printed. A printed citation is then left on the driver's windshield.
Information from the traffic tickets is uploaded at the end of each shift for immediate entry to a parking management database. The database stores all traffic citation records for three years in the event a parking violator decides to challenge his ticket.
Electronic ticketing devices and mobile printing systems like TSC's Alpha-3R deliver accuracy and convenience wherever ticketing operators take them.
Benefits:
Improved efficiency and accuracy
Fast print speed increased ticket revenue
Bluetooth data connection for printing parking tickets and automated record tracking
High-capacity 2500 mAh Lithium batteries for extended all-day performance
Compatibility with different ticket widths, allowing operators to easily switch ticket formats
IP54-rated dust and water-resistant case designed to protect the printer and keep it operating in harsh weather conditions
Alpha-3R Features:
Alpha-3R is a comfortable, light-weight printer capable of handling any mobile printing application requiring the fast production of simple receipts or selected labels on demand. The Alpha-3R's sturdy IP54-rated protective case is designed to resist dust and water and features a rubber over-mold design that can withstand up to a five foot fall and keep printing.
The Alpha-3R offers USB, or optional 802.11 b/g/n Wireless, Serial and Bluetooth® connectivity, enabling it to connect to a mobile computer or a smart phone and produce clear easy-to-read receipts or selected labels hour after hour. It also offers an industry-best two-year limited warranty.
MARKET:
Transportation
APPLICATION:
Parking ticket printing in Taiwan
MODEL:
Alpha-3R