Luxury brands can now make gifting even more memorable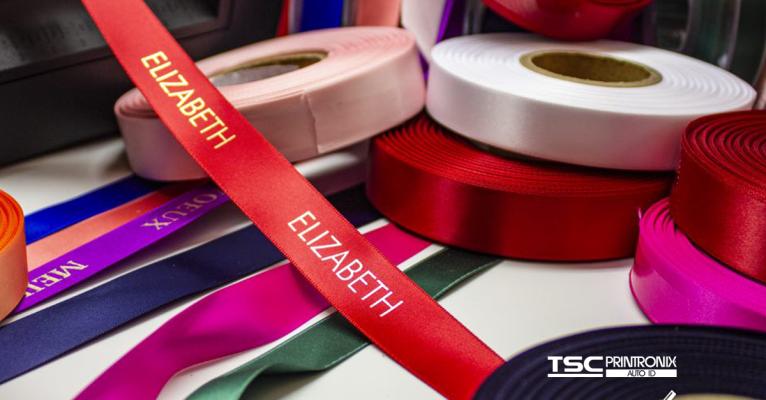 Background
Nothing expresses thoughtfulness more than a sublimely wrapped gift. And prestigious, luxury brands such as Christian Dior take the art of gifting very seriously, with branded ribbons and bows often providing the finishing touches. A good 20 to 30% of customers prefer to visit stores and concessions where complimentary giftwrapping is offered because it makes the gift appear so much more exclusive and special. And now, thanks to a solution developed by BryanThings in conjunction with TSC Printronix Auto ID, luxury brands can now stand out even more with beautiful, foiled customised ribbons with which to gift-wrap presents.
As specialists in designing and creating beautiful retail displays and experiences, BryanThings teamed up with TSC Printronix Auto ID to develop a solution called Ribbon Printer. It allows brands, at point of sale (POS), to personalise in real-time each piece of ribbon with tailor-made messages before gift-wrapping the presents, making gifts even more special and memorable.
Solution
The solution combines a tablet for the retail customer interface with a hot foil ribbon stamping system with 600 dpi print resolution. Everything can be customised, from the font, layout, colour and content of the message itself to the ribbon material, its pantone colour, its width and any cut-outs. The software was developed by BryanThings and the printer used is TSC Printronix Auto ID's high-performance desktop, the TX600.
An application on the tablet enables the retailer or concession to select, via a simple and intuitive user interface, their desired typography, the message they want written, the brand logo and their choice of ribbon and ink colour. The tablet is connected directly to the TX600, which prints at a very sharp 600 dpi resolution on 30m media for gilding and 300m satin ribbons. An optional guillotine cutter can be specified to finish the cut of the ribbon.
Retailers can choose between a 10" or 15'' screen tablet and the solution can work 'on and offline'. Tutorials are available to make it easier to get started. The complete system can be either be housed in a cabinet or placed on a counter top. BryanThings has also developed a specific packaging solution that can be personalised in line with brand colour and image.
The luxurious Ribbon Printer solution has already been implemented in more than 1,000 stores around the world. Renowned brands like Louis Vuitton, Moet & Chandon, Tommy Hilfliger, Calvin Klein, Christian Dior and Yves Saint Laurent are all using Ribbon Printer to personalise their gift packaging, as are some leading florists and chocolatiers. The solution won a prestigious Popai, an award, much prized in POS application and luxury goods.
Benefits:
Customised and luxurious gift-wrapping solution using hot foil system
Ultra-fast, high quality printing at 600 dpi
Minimises queuing at peak shopping times in luxury outlets and concessions
'Popai award' winning solution for POS & luxury goods
Also suitable to print passes and wristbands in travel, leisure and hospitality
TX series features
The three models in the TX Series of thermal transfer desktop printers can support a wide range of printing applications. Each one uses a generous 300 metre ribbon supply and an easy drop-in media loading of 5" rolls media to save both time and money. The TX Series 4-inch model is ideal for printing high volume 4x6 shipping labels as well as high resolution product marking and graphic solutions applications.
Standard interfaces include USB 2.0, USB-A Host, 10/100 Mbps Ethernet and Serial connectivity. Optional communication interfaces include Bluetooth, 802.11a/b/g/n Wi-Fi and Centronics Parallel. Printer options include a bright colour LCD display, label peel and present, and a guillotine cutter.
As with all TSC printers, the TX Series features the TSPL-EZ printer-control language, which is fully compatible with the most commonly used printer languages in the industry.
About BryanThings
BryanThings is a subsidiary of RC Group and specialises in connected retail experiences and luxury applications. It enhances the in-store customer experience and gives a digital dimension to POS. Its solutions include Automatic Distributor, Ribbon Printer, Engravers, Automat Photos and App Studio. The BryanThings retail tablet with its own appstore enables stores to offer a range of sophisticated and tailor-made digital services. BryanThings offers complete solutions including installation, monitoring and project management.
MARKET:
Retail & Distribution
APPLICATION:
High resolution and high-volume printing, order processing, customized packaging, wristband printing
MODEL:
TX600