Fully Automated Package Labeling with PEX-1000 at Meukow Cognac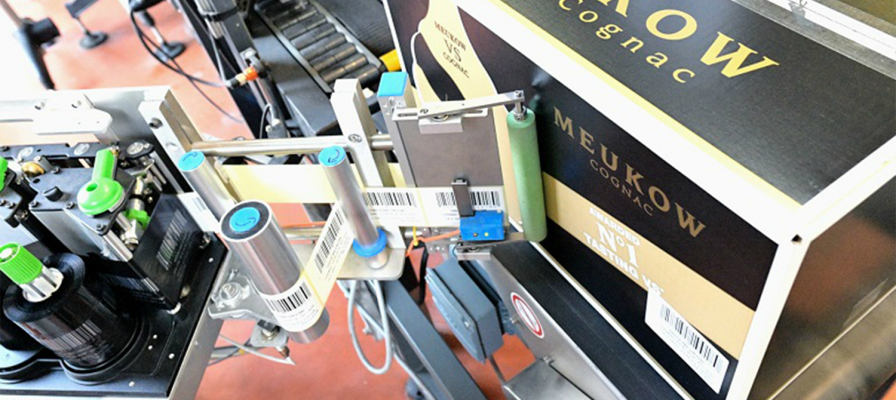 Background:
Meukow, the prestigious French House of Cognac, whose bottles are adorned with a panther - the icon of the brand, symbolizing the power, elegance and suppleness of its cognacs - relies once again on TSC, a brand recognized for the quality, reliability and ruggedness of its printers.
Located near Cognac France, within the Matha Distilleries, the facility produces around 6,000 bottles per hour. The production site includes six bottling lines for a total capacity of 15 million bottles with around 18,000 hectolitres of Cognac, Brandy and other spirits. Once the bottles are packed and labelled, the parcels are shipped to numerous retail stores and outlets in France and around the world.
To achieve these production rates, Meukow searched for a high-performance solution that could be integrated into its bottling lines and thus enable a complete automation of its labelling process.
Meukow already trusted TSC, having implemented desktop and industrial printers for its semi-automatic bottling lines. Because of the durability, ease-of-use and low maintenance of these printers, Meukow looked to the Taiwanese manufacturer for a new print and apply system.
Solution:
Developed by LRI and implemented by ARCOCEAN, a partner of TSC and Meukow for more than 15 years, the solution enabled Meukow to fully automate the labelling process into its bottling lines.
Installed at the end of the bottling & packaging lines, the solution integrates the new TSC PEX-1000 print mechanism. This extremely efficient, powerful engine produces labels at fast print speeds, allowing package labelling in record time. The mechanism is designed to fit easily in any print and apply system, thanks to its fully compatible structure and GPIO interface.
Once labels are printed by the PEX-1000, an articulated arm applies the labels onto the boxes, then the boxes are dispatched to Meukow outlets in France and around the world. Some improvements have been made to the system, including an extension of the labelling arm that adjusts perfectly to varying box sizes, and a buffer zone that regulates the timing of the label output to coincide with the velocity of the conveyor.
The installation of the new print and apply system has been a real success. Thanks to the complete automation of its labelling process, Meukow has significantly increased its productivity.
Today, more than 2,000 boxes per hour are prepared and labelled on the new, fully automated packaging lines, a dramatic increase considering the previous semi-automatic lines never exceeded 150 boxes per hour.
Benefits:
High performance print & apply solution
Easy integration of PEX-1000 print module
High speed automatic labelling systems
A 13x increase in productivity on bottling & packaging lines
PEX-1000 and TTP-286MT Features:
Extremely efficient, the TSC PEX-1000 print engine produces barcode labels at up to 18 inches per second, a top performer in its class. Thanks to its robust die-cast construction, the PEX-1000 ensures stable media path for outstanding print quality. The complete module combines an intuitive 3.5" color LCD display with 6-button menus and a front-side USB host for one-step updates. In addition, the PEX-1000 Series supports 203 dpi to 600 dpi resolutions to fit various print needs and label sizes, from high precision labels as small as 5 mm high to large labels with width up to 114 mm. The system is equipped with a large memory capacity of 512 MB Flash and 512 MB SDRAM and offers multiple connectivity including USB, GPIO, parallel, serial, Ethernet, USB host and optional 802.11 a/b/g/n wireless and Bluetooth 4.0 module.
The TSC TTP-286MT industrial barcode printer features a 4.3" color touch LCD panel with 6-button menus and is equipped with Ethernet and USB 2.0 connectivity. Its metal structure includes a clear media view window. The TTP-286MT features increased memory of 256 SDRAM and 512 MB Flash, with SD Flash memory expansion up to 32 GB. The TTP-286MT can manage label widths up to 241.3 mm (9.5") with a maximum print width up to 219.5 mm (8.64") wide at 300 dpi high resolution.
About Arcocean:
With more than 30 years of experience and a recognized expertise in labelling systems, Arcocean designs and manufactures industrial solutions for traceability and labelling. As a TSC partner for many years, Arcocean integrates TSC printers into its print and apply solutions.
About LRI:
Since 2004, LRI has been offering innovative industrial IT solutions. The company recently launched its SaaS printing software "LRI WebPrint". Together with powerful barcode printers, this efficient tool allows companies to create their own label masks. Arcocean and LRI are both part of the GLAD group.
MARKET:
Food and Distribution
APPLICATION:
Automation of labelling systems
MODEL: