Introducing Two New and Exclusive Software Applications to Enhance the Performance of Your TSC Printers: TSC Console and TSC Standalone Creator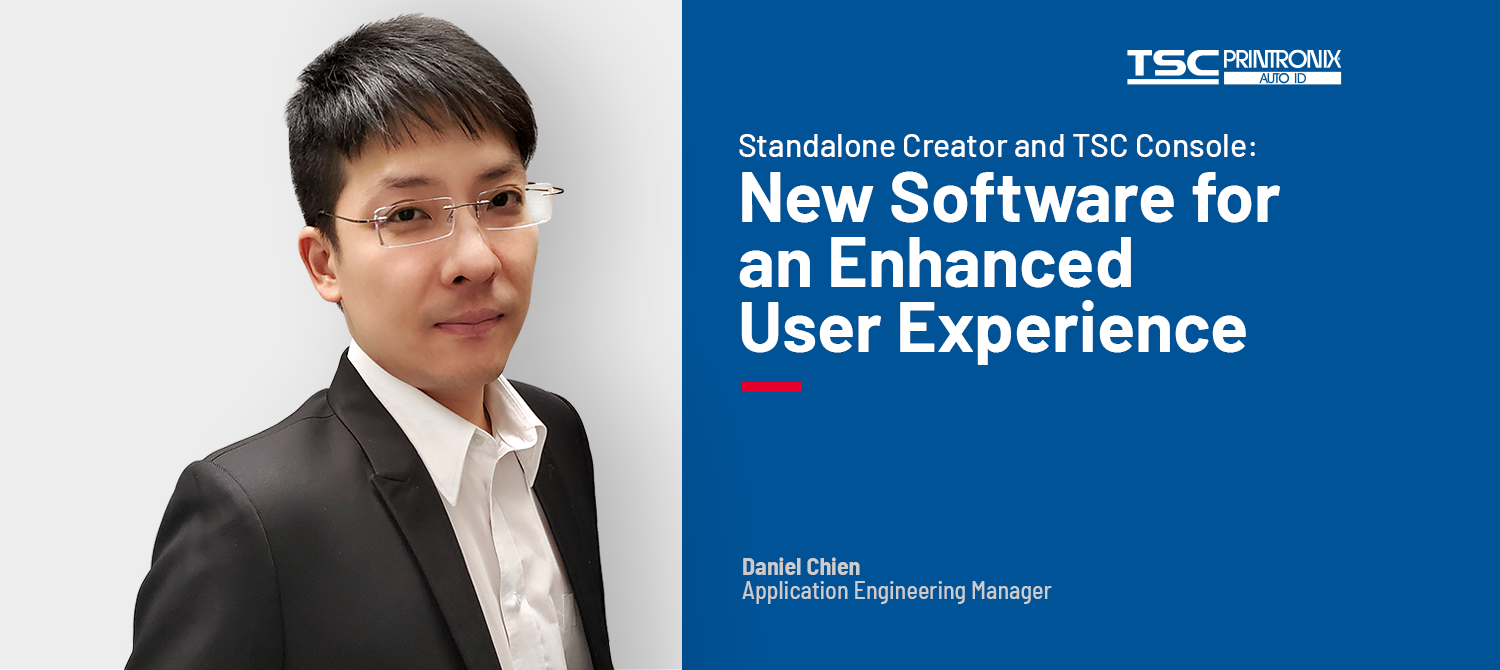 For the past 30 years, we have been committed to bringing innovative, and high-performance barcode label printers to the auto identification and data capture (AIDC) industry. We sat down with Daniel Chien, Application Engineering Manager for TSC Printronix Auto ID, to discuss the huge strides we have made over the past year to develop value-added software to enhance the operation and usability of our hardware.
We are excited to announce the release of two new and exclusive software applications to enhance the performance of your TSC printers: TSC Console and TSC Standalone Creator – free of charge across most of our TSC thermal printers.
"I am very proud of what our engineering team has been able to accomplish over the past year," says Chien. "We were able to successfully create a reliable remote printer management software to enhance the customer experience and expand the capabilities of our printers. We really took the opportunity to listen to customer feedback and develop solutions to improve standalone operation and increase the ease of printer management."
Remote Printer Management with TSC Console
TSC Console is a remote software solution for quickly and remotely monitoring printers, configuring settings, deploying programs, and troubleshooting problems. The software's ability to actively monitor and configure entire networks at once makes it an ideal solution for small and medium-sized businesses (SMBs) who manage dozens to hundreds of label printers. As the manufacturer, we have the capability to make this solution highly customizable to meet your needs.
TSC Console comes fully integrated with an intelligent TPH Care Mechanism and smart battery functions. TPH Care can detect any bad dots on the thermal printhead and generate a warning through TSC Console. With this function, users can easily replace the bad printhead in advance to avoid downtime across all TSC printer models. The purpose of the smart battery function is to reduce downtime specifically for applications using our mobile printers. TSC Console can display real-time data of the health and performance of your printer battery and create an alert if the battery has low power. It can then create an alert if your battery is near end-of-life and in need of replacement.
TSC Console eliminates confusion users may have about when and where to use our software tools. It fully integrates all four TSC key firmware tools into one place. Customers can easily access and utilize the TSC Diagnostic Tool, printer management programs, CommTool, and our Printer Webpage settings in one central location.
In addition, TSC Console is designed for easy integration. Users can simply click the "TSC Console.EXE" link and execute the program directly as a local download. This is especially convenient for customers who do not want to install any new software applications onto their enterprise devices.
TSC Console, formerly called TPM+, acted as a mobile device management (MDM) software. In the previous generation, the software was only able to manage printers within the same domain. The latest, enhanced version, allows users to manage multiple domains and remotely configure printers anytime, anywhere.
Customize Printer Menus and Label Designs to Your Unique Application with TSC Standalone Creator
TSC Standalone Creator is a software that customers can use to create sophisticated menus and labels for standalone touch panel applications and deploy to one or an entire fleet of printers. The exclusive software makes touch panel menu customization and label design easy by using an icon-based drag-and-drop interface.
TSC Standalone Creator enhances the standalone operation of our printers. Changing the menu or label design is easy and requires little to no prior programming experience. Users can simply download the software for use on any TSC printer with a touch panel display and customize their menus and design new labels on demand. It's as easy as save, design, print, and repeat.
TSC Standalone Creator is now available in most major languages on TSC standalone printers with touch panel displays. This includes the MB240T, MH240P, MH240T, MX240P, TTP-2610MT, MH241P, MH241T, MH261T, and MX241P desktop and industrial printers. The software is also fully compatible with the TSC Bartender Lite labeling software.
TSC Console is a feature-rich software with a wide range of printer management and diagnostic capabilities exclusively for TSC printers. We have also created a strategic partnership with SOTI to offer SOTI Connect capabilities to our customers for an even broader range of support through cloud-based remote management solutions for all their IoT devices across their enterprise. TSC Console and SOTI Connect enable our customers to print confidently and manage their printer fleet anytime, anywhere.
To learn how to add TSC Console and Standalone Creator to your thermal printer fleet, contact your local TSC Printronix Auto ID sales representative.