TSC label printers improve take-out efficiency at specialty-beverage chains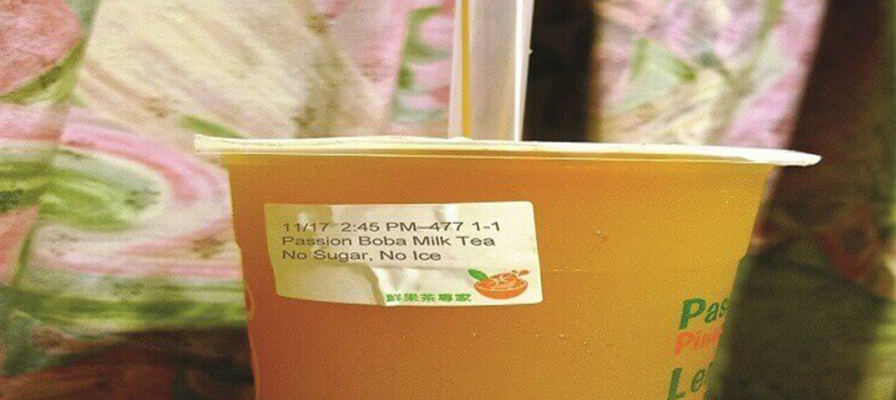 Situation:
Specialty-beverage chains serving iced tea, lemonade, and milk tea to-go have been expanding rapidly in the Asia region. Customers can choose from numerous options, including the level of sweetness, amount of ice and type of milk. Unfortunately, with so many possible variations, servers often make mistakes, and extra time and money is spent correcting orders.
Solution:
To resolve this issue, many specialty-beverage outlets have decided to integrate the TDP-225 direct thermal barcode printer into their POS system. Servers can now take orders, automatically print out labels listing the ingredients of each drink, and place them on empty cups to be filled. When the cups are passed to the next station for processing, servers know exactly what ingredients to include in each beverage. At the pickup counter, customers can double-check the accuracy of their order by examining the beverage label.
Benefit:
Listing each order's ingredients on a label ensures that every drink is produced quickly and correctly the first time, reducing wasted time and supplies reworking orders. And because drinks are processed much faster, customers spend less time waiting in line. The result: improved customer satisfaction, and is less stressful and hectic for the staff.
Features:
The TDP-225 is a low-cost compact 2-inch-format desktop printer with an optional LCD display to customers. The LCD presents easy-to-read information about print job status, making the TDP-225 much easier to use than other compact direct thermal printers on the market.
Designed with a small footprint and no losable parts, the TDP-225 is ideally suited for a wide range of applications, including retail point-of-sale, shelf labeling, product marking, healthcare-specimen labeling, healthcare-patient tracking, Inventory and asset management, small office or home office mailing, shipping and file-folder labeling. The printer operates at a fast 5 inches per second and features a user-friendly clamshell design with a large 5" label roll.
The TDP-225's advanced design includes a 200 MHz processor, 4 MB FLASH memory (standard), 8 MB SDRAM and a MicroSD expansion slot that increases FLASH storage up to 4 GB. The printer supports standard industry emulations right out of the box, including Eltron® and Zebra® language support.
MARKET:
Specialty-beverage chains
APPLICATION:
Ordering system and product labeling
MODEL:
TDP-225