Read-after-print, 2D Codes combined for the first time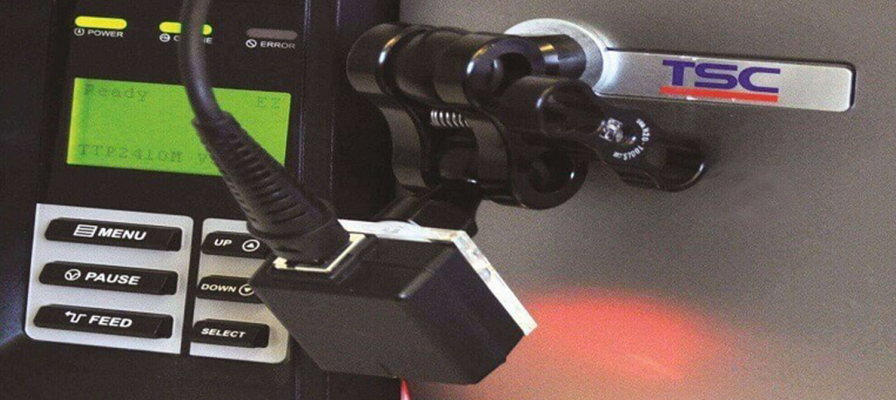 Background:
During industrial processes, especially those in automotive and electronic manufacturing and other mass-production industries, the faulty labeling of products and components can have disastrous consequences. The increased use of high-information-content 2D codes (e.g. DataMatrix) has made label accuracy even more critical. In order to minimize expenses and costs, it is imperative to detect faulty labels at the beginning of the marking process. The simplest way to validate label accuracy is via a method called "read after print." With this technology, a linear barcode can be tested for readability, by means of a scanner, immediately after label printing.
Solution:
Barcodat GmbH, an authorized TSC reseller specializing in automatic data-collection systems, has for the first time succeeded in using a barcode scanner combined with TSC's TTP-2410M Pro industrial printer to print and automatically validate the accuracy of both 2D and linear barcode labels.
During label printout, a stationary area imager at the front of the printer automatically reads the barcode (no manual intervention required). If the barcode is faulty, optical and pre-programmed acoustic warning alerts are generated, and the system automatically shuts down. After the problem is diagnosed and fixed, the system can be rebooted. The already-integrated software is completely compatible with the barcode scanner, making it easy to program the entire system. Power supply and data transfer take place via the printer's RS-232C interface, which can also be used for standalone operations, thanks to an optional USB host.
Customers now benefit, without restrictions, from a read-after-print test method that can detect faulty labels – linear or two-dimensional barcodes–to minimize expenses and costs during the product marking process. (Please note that read-after-print is purely a performance check and does not involve a quality check of the barcode).
Benefits:
Increased efficiency
Reduction of error rate
Enhanced process security
Savings in label stock, thermal transfer ribbons and time
TTP-2410M Pro Features:
Based on the proven TTP-2410M platform, the high-speed TTP-2410M Pro offers numerous improvements designed to increase functionality and durability. The printer is equipped with a 32-bit RISC processor and offers storage capacities of 8 MB FLASH and 32 MB SDRAM. It supports thermal transfer ribbons up to 600 meters and features serial and parallel interfaces as well as integrated Ethernet. With its separate die-cast aluminum base plate and backplane, which includes a metal media supply spindle and sturdy two roller damper, the TTP-2410M Pro is perfectly suited for ultraheavy- duty demand cycles.
Other enhancements include a new motor mount for quieter printing, a gap sensor lock to keep the label sensor from shifting, and a new anti-static ribbon brush. Finally, TSC has added an optional USB host option for applications that require the use of either a USB scanner or keyboard.
About Barcodat GmbH:
Founded in 1986, Dornstetten, Germany-based Barcodat GmbH is a pioneer in the development of automatic data-collection systems, including barcode scanners, barcode label printers and wireless auto-ID products. A long-time TSC partner, the company and its team of experts offer customized solutions across the entire supply chain – from warehouse logistics to RFID and DPM.
MARKET: 
Industrial production process
APPLICATION: 
Read-after-print label verification for product marking 
MODEL:
TTP-2410M Pro