Norwegian factory selects TTP-384M for pallet labeling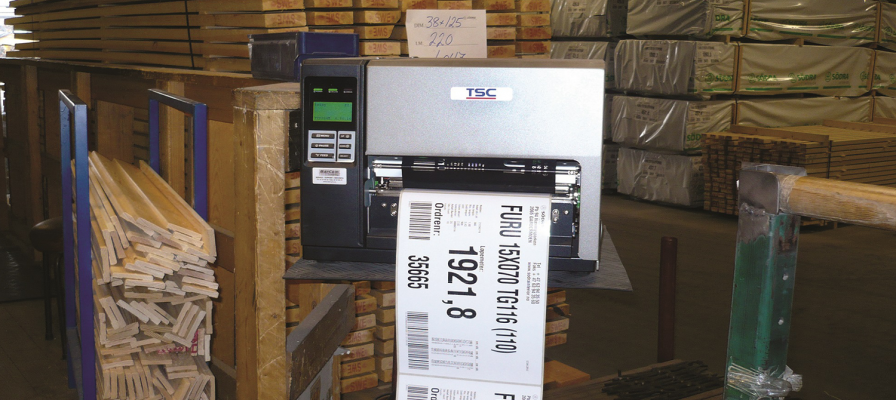 Background:
A factory in Brumunddal, Norway, owned by the Swedish economic association Södra, needed a durable, high-performance printer capable of labeling lumber pallets and other timber goods.
Solution:
After a careful review, Södra decided to purchase TSC's TTP-384M industrial thermal printer. Södra connected the TTP-384M to its materials-tracking system, which sends information to the printer identifying the type of material loaded on each pallet, and the TTP-384M prints the information on a pallet label. The biggest challenge facing Södra was the reconfiguration of its existing materials-tracking system, which had been designed to communicate with older, less-advanced printers.
"We were originally looking for a six-inch-wide-format printer to produce A5 labels for labeling pallets. Because TSC offered only an eight-inch-wide-format printer at the time, we changed our mind and decided to purchase the TSC TTP-384M. It turned out to be a good decision, because we later found that we needed to print wider A4 labels. Our experience with the TTP-384M has been excellent, and we have had no problems since its installation in June 2010," said Daniel Ribbing, Södra's maintenance director in Brumunddal.
Benefits:
Stability without any installation problems
Optimization of processing
Prevention of errors due to insufficient or unreadable label information
Reduction of time spent checking goods and their destination
TTP-384M Features:
The affordable and easy-to-use TTP-384M wide-format thermal transfer printer is ideally suited for compliance labeling, brand marketing, inventory control, drum labeling, warning signs and a host of other signage solutions.
TTP-384M can accommodate label widths up to 9.5 inches, with a maximum print width up to 8.64 inches at 300-dpi resolution. It also is designed to print wide-lateral bar codes without the need for image rotation. The TTP-384M features a die-cast aluminum chassis and is packed with standard features, including a large LCD display, 8 MB Flash memory, 32 MB SDRAM, an SD card slot for adding up to 4 GB of additional memory storage, a built-in internal Ethernet 10/100 print server, and USB 2.0, Centronics, RS-232C and PS/2 keyboard connectivity.
The TTP-384M print assembly handles ribbons up to 600-meters long, accommodates a full 8.2-inch OD media roll and features a center-bias label handling mechanism that makes media loading and adjustment easy. A large LCD control panel makes it easy to manage printer settings, while the built-in Ethernet print server enables operators to control and monitor the printer remotely.
About Södra:
More than 51,000 forest owners in southern Sweden are members of the economic association Södra. In addition to owning just over half of all privately managed forests in the region, the group's member companies sell their products in both Swedish and international markets. This gives members access to a large and expanding customer base for their raw forest products, while creating the foundation for profitable forestry.

Södra is a large employer, with 4,000 people working in areas ranging from forestry management and environmental conservation to accounting, sales and product development. The group's four business areas produce sawn and planed timber goods, interior products, paper pulp and biofuel. In recent years, Södra also has become a large producer of electricity and now generates more power than it uses.
MARKET:
Forest Industry
APPLICATION:
Pallet Label Printing
MODEL:
TTP-384M