ME240 print mechanism proves to be perfect solution for hospital medicine-dispensing machines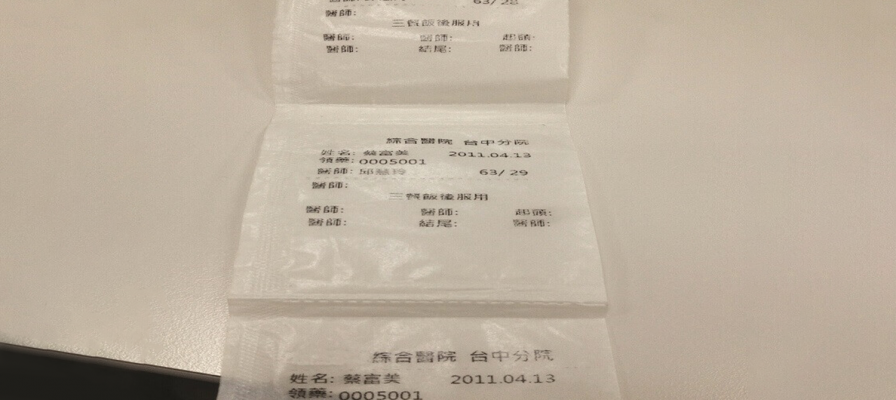 Situation:
Thousands of doses of medication are prescribed each day to patients by hospital pharmacies in Taiwan. Preventing prescription mistakes, which can produce dangerous drug interactions, overdose, and other side effects, is absolutely critical.
To reduce drug-dispensing errors and improve patient safety, hospital pharmacies print diagnostic information on patient medicine bags before they are dispensed. In addition, Taiwan's Department of Health (DOH) has enacted new regulations that mandate the labeling of 13 items on every medicine bag, including the name of the pharmacist, expiration date, and the name of the pharmaceutical company.
Solution:
In a typical hospital pharmacy system, patient prescriptions are sent automatically from a central database to an automatic dispensing machine (ADM), which then prints the required prescription information on each bag, including the patient and doctor's name, date, type of medicine and intake directions.
To speed up the automated process, many hospital pharmacies now use the TSC's ME240 thermal print mechanism and ribbon in their automated-dispensing machines. Using the high-performance ME240, the ADM prints medication information on the prescription bag, and then inserts and seals the drugs in the package – a high-quality, streamlined process that ensures that all prescription information meets the new DOH regulations.
Benefit:
Ensures the delivery to patients of properly labeled prescriptions, reducing the likelihood of medication errors.
Helps pharmacists prepare accurately labeled prescriptions, while increasing the effectiveness of medication process management.
Provides detailed prescription information that makes it easier for the hospital staff to answer patient questions about their medications.
ME240 Print Mechanism Features:
The ME240 printer's unique design features a heavy-duty die-cast aluminum print mechanism, which TSC will make available as a standalone unit to partners who want to design and build their own custom-packaging machine or label applicator. The print mechanism includes a ribbon handler and printhead assembly and is designed to hold the electronics main board and power supply. This compact assembly is ideal for resellers who want to develop low-cost customized solutions for packaging, product marking and other applications.
MARKET: 
Healthcare industry
APPLICATION:
Medecine-bag printing at pharmacy in Taiwan
MODEL: 
ME240 die-cast print mechanism