German flower pot labeling company uses TSC printers to automate pot and plant labeling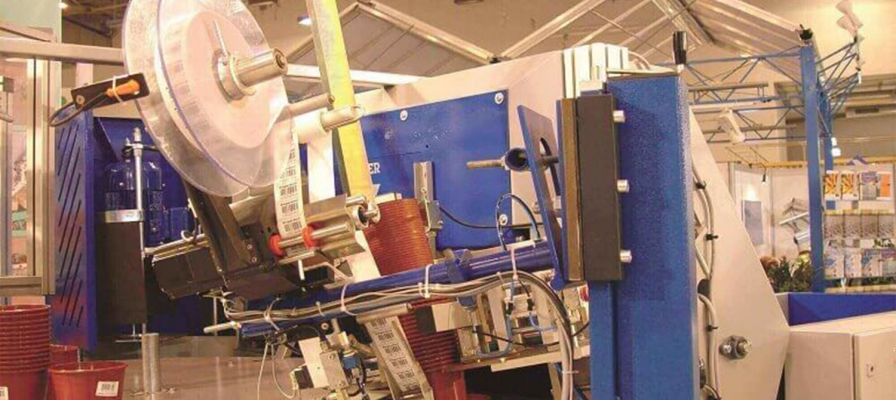 Background:
Comprehensive consumer protection regulations and provisions governing product labeling and traceability have had a negative impact on producers, suppliers and dealers in the Green Industry over the past few years. Faced with the new regulatory burdens and growing market competition, companies have been looking for new ways to more efficiently market their products.
Until recently, the labeling of flower pots and the printing of wrap-around or hanging labels for perennial plants and woody plants was done by hand, a time-consuming, labor-intensive process. Siegardie, a German company whose product line includes labeling machines specifically designed for plant and flower pot labeling, was able to develop an automated solution that is more efficient and less costly than traditional hand-labeling methods.
Solution:
Siegardie now uses TSC's compact direct thermal printer, the TDP-225W, to create flexible wrap-around plastic labels that can be used to label perennial plants, small trees and roses. The weather-proof, dirt-repellant and tear-proof wrap-around labels contain a gap punch and are calibrated on black mark, so that each label can be printed as required and exactly fits.
Siegardie also has developed special labeling machines for the automated labeling of flower pots in small and medium quantities. The machines use TSC industrial printer, the TTP-2410M Pro series, to print the labels, which are then pushed onto a special blow box vacuum plate. As each pot passes the blow box, a blast of compressed air is used to apply the self-adhesive label. The TTP-2410M Pro is fitted with a programmable interface card and external rollers. It offers plenty of performance at a very attractive price, making it a very affordable automated labeling solution for Siegardie.
Benefits:
Automation of production processes
Affordable printing of wrap-around barcode labels
Time and cost savings
TDP-225W Features:
The TDP-225W direct thermal printer is ideally suited for the printing of wristbands and wrap-around labels. The printer, which can be wall-mounted, comes with an LCD printer-status display, prints at up to 127 mm (5 inches) per second and offers USB 2.0 and Ethernet connectivity.
Unlike other direct thermal printers, the TDP-225W is extremely compact and features a center-biased media holder that supports the 6.5-inch outer-diameter wristband rolls commonly sold by major wristband manufacturers.
The TDP-225W can be optionally configured to print wristbands and wrap-around labels in the event of a computer failure by retrieving its stored wristband printing program and entering and printing the information from a PC keyboard.
TTP-2410M Pro Features:
With its durable aluminum construction and many high-performance features, the TTP-2410M Pro is ideally configured for the production of labels in small-to-medium quantities. The printer features a separate die-cast aluminium base plate and backplane that includes a metal media supply spindle and sturdy two roller damper, making it extremely durable, a requirement for heavy-duty demand cycles.
Other enhancements include a new motor mount for quieter printing, a gap sensor lock to keep the label sensor from shifting, and a new anti-static ribbon brush. TSC also has added an optional USB host option for applications that require the use of either a USB scanner or keyboard.
The TTP-2410M Pro supports ribbon lengths of up to 600 m and label rolls with an outer diameter of up to 208.3 mm (8.2 in). Standard features include a storage capacity of up to 32 MB of SDRAM and 8 MB of Flash memory, a large 6-key LCD display, built-in Ethernet, a PS/2 keyboard interface, and USB 2.0, parallel and serial interfaces.
About Siegardie:
Siegardie® Udo Siedlaczek Lohnarbeiten für den Gartenbau (contract work for gardening) is one of the leading companies specializing in the automated production of flower pot labels. Founded in January 2001, the company was initially the commercial branch of a horticultural farm owned by Udo Siedlaczek since August 1998. With the development of its patented labeling machine, Siedlaczek finally had the technology to label plastic flower pots quickly and economically, regardless of the pot size or run quantity. In addition to supplying the Green Industry, Siegardie also provides other industries with labels, printers, accessories and consumables.
MARKET: 
Green industry
APPLICATION: 
Labelling of plants and flower pots
MODEL: