Citations
As experts in mobile thermal printing solutions, Genuine Supplies understands the unique material needs for parking and law enforcement.
No matter how small or how large your requirement, we will provide a quality product at an attractive price and deliver it in a timely manner. We can provide these specialty products for a wide range of customers including:
Cities/Municipalities
Colleges/Universities
Parking Authorities
Hospitals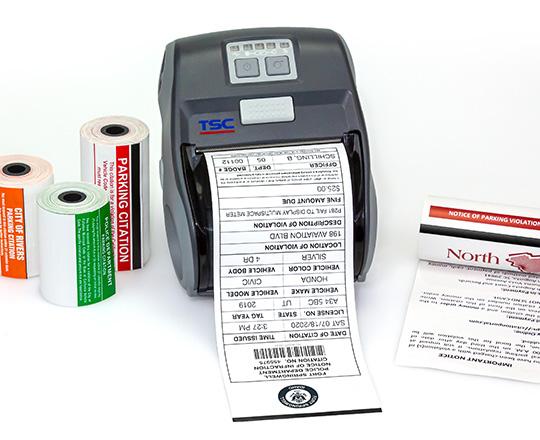 Citation Supplies
Mobile citation printing saves time, increases accuracy and helps limit unenforceable citations. Genuine Supplies can work with you to provide your customers with custom citation rolls for most makes and models of mobile printers, including TSC, Printronix Auto ID, and major mobile printer brands.
Materials to Withstand the Environment
In order for tickets to be enforceable, they need to remain legible. Citations are often placed on a windshield and exposed to heat, weather, or direct sunlight – which can lead to fading or discoloration. Our citations and parking pass materials are designed to withstand this harsh environment. Best for applications where the label will be subjected to abrasion, sunlight, moisture or light chemical contact.
Citation Books and Remittance Envelopes
Even if your customers have not yet transitioned to a mobile printing/e-citation system, Genuine Supplies is still here to support you! We can help with all of your custom needs for manual citation booklets and payment remittance envelopes.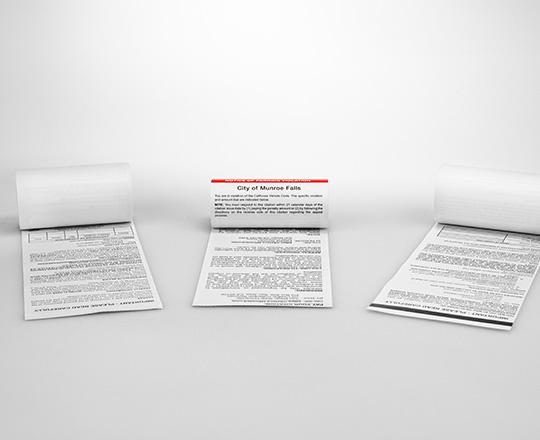 Quality Stock or Custom Products
All of our OEM products meet or exceed the specifications of the original equipment manufacturer.Additionally, we can custom print your citations or ticketing materials with your customer's logo, seal or any other identifying mark or wording. Our custom printing capabilities are extensive, with the ability to print up to 10 colors, incorporate security features or provide sequential numbering.